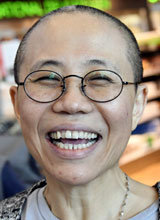 Liu Xia, the wife of 2010 Nobel Peace Prize winner Lie Xiaobo, who passed away in prison after he was accused of attempting to subvert the state from the Chinese government, visited New York City to attend the forum for human rights in China and the awarding ceremony for writers. It is her first official schedule since her arrival in Berlin in July, after eight years of being confined to her home.
On Thursday (local time), the Hong Kong South China Morning Post and other Chinese media reported that Liu Xia attended local events in New York over the last two days. She attended the events with Chinese writer Liao Wiyu, an anti-regime activist who was prisoned for four years after writing a poem titled "massacre" on the Tiananmen Square democracy movement.
She attended Wednesday a forum on human rights in China, titled "The power of the powerless" and hosted by Andrew Nathan, a professor of political science at Columbia University. "I still don't know what to say of Xiaobo. He did not harbor hatred in his heart to the end. He wanted me to leave China," she said.
She attended the awarding ceremony Thursday with Liao for the Disturbing the Peace Award for a Courageous Writer at Risk, awarded by the Vaclav Havel Library Foundation. Though Liu Xia was also chosen as a candidate, Liao won the prize.
chan2@donga.com