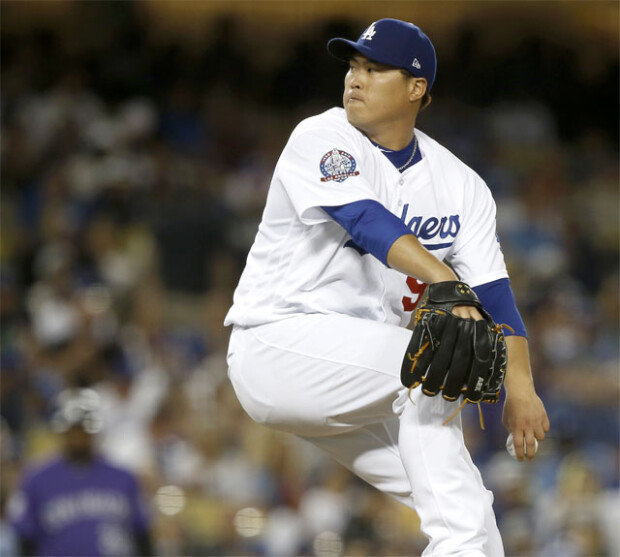 Los Angeles Dodgers' Ryu Hyun-Jin of South Korea has contributed to his team topping the National League (NL) West, showing his big-game performance.
The 31-year-old pitcher stood on the mound as a starter for the first of three consecutive matches with The Colorado Rookies that competes for the top of the NL West. Losing no point to the competitor, Ryu led a landslide victory of eight to two, which brought the fifth victory to Ryu for this season. The Dodgers lagged behind the Rookies by a 0.5 game gap before the victory, with which it has got back on top of the NL West, leading the Rookies by a 0.5 game gap.
Dodgers manager Dave Roberts commended Ryu as an iron man who always makes good pitches without being nervous. Roberts also commented that the Korean pitcher has great trust in Ryu's pitching given that he gets lefties and righties out and throws a strike when he needs to.
Ryu posted just four hits and five strikeouts, with no walks. The Dodgers' offence contributed to Ryu's victory from the early innings of the game. Dodgers outfielder Joc Pederson hit a home run as a lead-off man in the bottom of the first. He helped the Dodgers lead by eight to zero with a relieving gap for Ryu, by recording a two-run home run in the bottom of the fourth.
Bo-Mi Im bom@donga.com