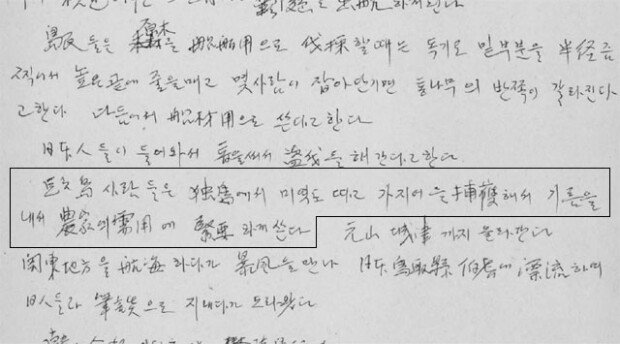 "Residents of the Geomundo Island gather sea mustard and make good use of oil from sea lions for farmers." This is a record made by Kim Byung-soon (1915-2010), a resident of Geomundo Island who lived his whole life in the island (Samsan-myeon, Yeosu, South Jeolla Province). Dokdo Research Institute of Yeungnam University has announced that Geomundo residents engaged in fishing and hunting activities around Dokdo Island from the 19th century to early 20th century, according to its study early this year.
The fact that fishermen in the southwestern region of the Korean Peninsula went out fishing to around Dokdo is related to the island's sovereignty. South Korea's researchers believe that Dokdo Island got its name from the residents in South Jeolla Province who used to call a rock island "Dok island." Stories of residents of Geomundo and Chodo Islands doing fishing activities around Dokdo have been long passed down, but related records have been nowhere to be found.
"Kim's record shows that residents even used to sell sea mustard collected from Dokdo to local farmers," said Park Ji-young, research professor at Dokdo Research Institute. "This is the first time that a document written by a resident has been discovered." Sea lion oil is known to have been used by farmers primarily as lamp oil.
The old document that the research institute secured through Kim's son, Kim Tae-su (76), contains valuable memories about Ulleungdo and Dokdo Islands noted from the perspective of residents living in nearby islands including Geomundo and Chodo. Kim, a writing maniac, started to write down what he knows and what he heard from other residents in the 1960s.
"Geomundo residents used to carry this island's main produces such as sea mustard and medicinal herbs to and from Ulleungdo in the 1800s. When cutting lumber to make ships, they chopped the end of the wood with an ax and tied strings so that the log can be halved when several people pull the strings together. It is said that Japanese people have secretly cut down trees."
Kim also included the photographs of a house and a bowl made of wood brought from Ulleungdo. "This is evidence that proves Geomundo residents had been to Ulleungdo," said Park.
Fisherman Ahn Yong-bok's testimonies made when he was abducted by Japanese fishermen in 1693 also show that local residents of Yeosu and Suncheon, South Jeolla Province did fishing activities in Ulleungdo and Dokdo during the Joseon Dynasty. Testifying about how he went to Ulleungdo, Ahn said that there were three ships operating around the island and one of them was from Suncheon. The chronicles of King Sukjong also say that when Ahn traveled to Japan in 1696, five fishermen from Suncheon were accompanying him.
Dokdo Research Institute has recently published "Materials I, II of Geomundo in relation to Ulleungdo and Dokdo (published by Suninbooks)" by taking pictures of Kim's original documents. The institute will hold a celebratory seminar at Mattiyu Yeosu Hotel in Yeosu at 2 p.m. Thursday.
Jong-Yeob JO jjj@donga.com