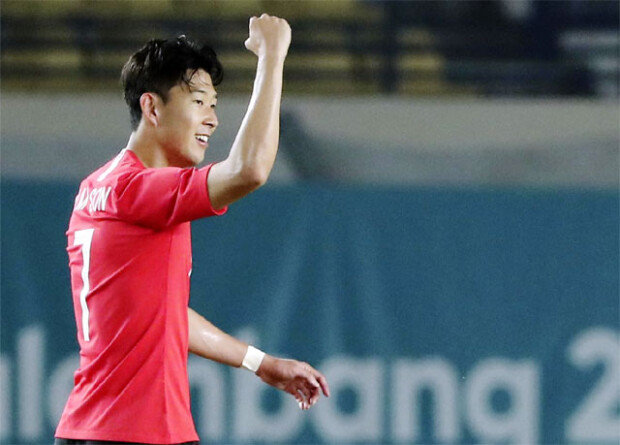 "Making way through thorn bushes with the skillfulness of the wild card." This is the special mission of the Korean national under-23 football team that began the harsh tournament at the 2018 Jakarta-Palembang Asian Game's male soccer event.
Unlike expectations that it will rank No. 1 at Group E, Korea entered the round of 16 after shock defeats, securing second place. Korea will be facing Iran (Group F, first place) at the Wibawa Mukti Stadium at Cikarang, Indonesia at 9:30 p.m. on Thursday (Korean time).
What differentiates Korea from Iran in the 2018 Asian Games is the existence of a wild card, which is players over 24. 2018 Russian World Cup members Son Heung-min and goal keeper Cho Hyun-woo and adult national team member Hwang Ui-jo joined the team as a wild card.
For captain Son, the game with Iran will become an opportunity to retain self-esteem. He has participated in five games facing Iran at the adult national team but had never enjoyed victory, recording 1 tie and 4 losses. "Iran appears to be strong in all age spectrum," he said. "We will, however, be able to gain a good result if we are able to focus on strengthening our ability to play the game rather than being conscious of the other team."
In order to block Iran's aggressive attacks, it is necessary for Cho to actively adjust the overall defense line. He is able to make sharp oral instructions such as adjusting the distance of defense as he is situated at the very back of the defense line. "I will teach younger players even during the game so that they will be able to remain concentrated," said Cho. "I am confident as I have practiced penalty shoot-out a lot. If we were ever to have a penalty shoot-out, we will be able to win the game as I will block the other team's shoots."
Games will enter into a penalty shoot-out if there is no winning team at the regular time and playoff from the round of 16.
Yun-Cheol Jeong trigger@donga.com · Jae-Hyeng Kim monami@donga.com