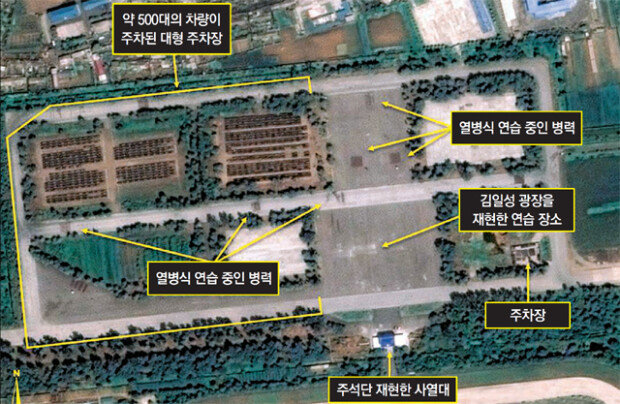 Recent commercial satellite imagery indicates that North Korea's planed military parade celebrating the communist state's upcoming Foundation Day on September 9 will likely be larger in scale than the one held in February to mark the 70th anniversary of the founding of Korean People's Army, 38 North, a U.S. website monitoring the North reported on Tuesday (local time).
"Given the pace of the build-up and training, North Korea's upcoming Foundation Day Parade (reportedly to be held on September 9) will probably, at least match but likely surpass the size of the parade held this past February to mark the 70th anniversary of the founding of Korean People's Army," it said in an article posted on its website that analyzed August 12 commercial satellite imagery of the Mirim Parade Training Ground in Pyongyang.
"The number of shelters appears slightly larger than what was used in the February parade, and there are at least 10 pieces of equipment (including several tanks or artillery pieces) in front of their respective shelters," the article said. It noted that the shelters were used to house and prepare ballistic missile and unmanned aerial vehicle launchers, tanks, large artillery pieces and other heavy equipment away from view.
The imagery also showed "a high level of activity throughout the Mirim facility including the presence of approximately 500 trucks (used to transport troops to the training facility), the erection of a small tent city to house and feed those troops in the area of the Mirim Heliport, six groupings of troops in parade formation moving along the facility's roads, a small number of troops and vehicles elsewhere around the facility and the preparation and expansion of the storage shelters," the website reported.
However, 38 North reported that no ballistic missile or UAV launchers were detected on imagery.
In-Chan Hwang hic@donga.com