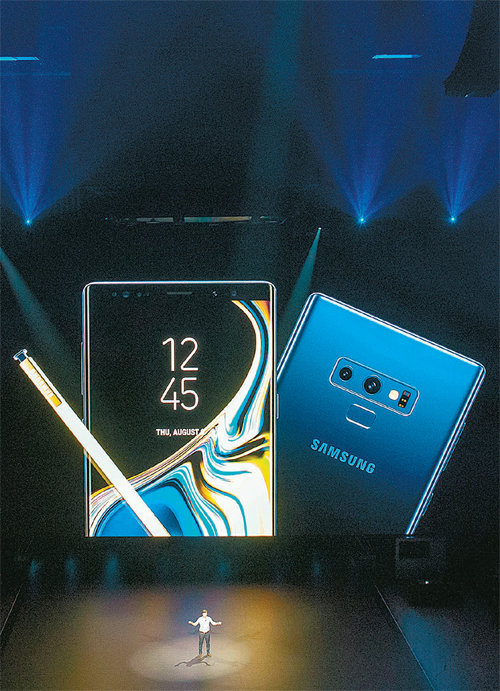 The S Pen of Samsung Electronics' Galaxy Note 9 has pushed into a new boundary of stylus. Equipped with a Bluetooth module, the S Pen has become a remote controller that can control various features of the smartphone with a single click. Previously, the S Pen's main functions were centered around writing or drawing.
Starting from the Note 7, a translator feature was added that can automatically translate the meaning of words just by pointing at them. Even with the addition of a Bluetooth module, the new stylus weighs 3.1 grams, up only 0.3 grams from the previous model.
On Thursday, Samsung Electronics held a launching event titled "Samsung Galaxy Unpack 2018" to showcase its Galaxy Note 9, the latest smartphone for the latter half of the year, at Barclay Center in New York with the presence of some 4,000 attendees from global media outlets and partner companies.
"The Galaxy Note 9 is the best smartphone that provides the functions, performance, and intelligence needed both for work and life," said Koh Dong-jin, the head of Samsung's IT & Mobile Communication Division.
The Note 9 has been upgraded as a device for video games with more enhanced battery, storage, and network capacities. In particular, the Note 9 boasts a cooling system that has improved by 21 percent compared to the previous model, soothing the high temperatures generated mainly from the application processor.
"Given that the number of mobile game users is increasing at a must higher rate than online video games, we've developed the Galaxy Note 9 that allows playing advanced 3D video games without a hitch," said an official from Samsung Electronics.
Jae-Hee Kim jetti@donga.com