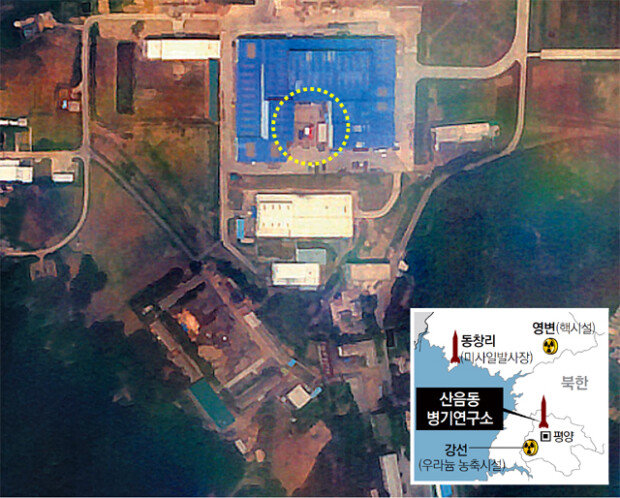 Work is still underway at a research facility in Sanumdong, North Korea, to produce intercontinental ballistic missiles (ICBM) capable of reaching the eastern regions of the United States, such as Washington and New York, according to satellite photos revealed Tuesday. In response to the newly obtained advance, the Trump administration is likely to pressure the North, calling for the final, fully verified denuclearization (FFVD) yet again. With the revelation of images proving that there is a long way to go to implement a road map for denuclearization, the tug of war between Washington and Pyongyang is expected to get intense for the time being.
A satellite image disclosed by The Washington Post Monday shows a red covered trailer in a loading area, which is identical to those used to transport ICBMs, as well as other evidence pointing to the operation of a missile factory.
"It's active. We see shipping containers and vehicles coming and going. This is a facility where they build ICBMs and space-launch vehicles," said Jeffrey Lewis, director of the East Asia Nonproliferation Program at the James Martin Center for Nonproliferation Studies at the Middlebury Institute of International Studies. "North Korea is not negotiating to give up their nuclear weapons. They are negotiating for recognition of their nuclear weapons."
Missile experts say that though the North has secured engine technology through the launch of its ICBM Hwasong-15 last year, it may still need to develop sophisticated technology in other areas including guidance systems. Some analysts see that the regime has been escalating the performance of its submarine-launched ballistic missiles (SLBM) as well as ICBMs.
"The Trump administration, while being actively engaged in denuclearization talks, is apparently taking a new approach in which it stresses to the international community the North's noncommittal attitude in implementing denuclearization, thereby securing various options," said a source in Washington. Some analyses hint that if the North does not make tangible moves to disarm by the end of this month, the United States will use it as justification for its next steps, possibly including the resumption of joint military exercises with South Korea.
lightee@donga.com · sunshade@donga.com