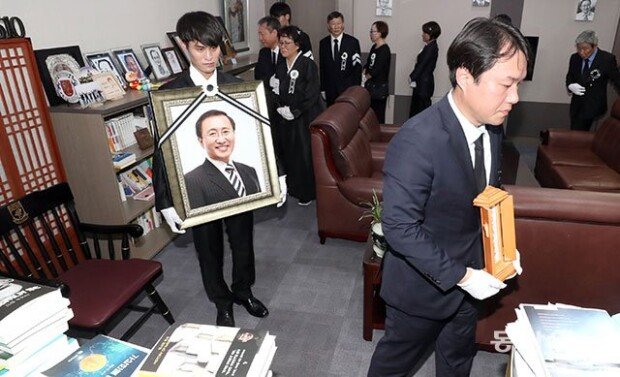 "My comrade, lifetime comrade! Why, why in the world am I standing here to give a eulogy for you?"
At a funeral service for late lawmaker Roh Hoe-chan held Friday at the National Assembly, Rep. Sim Sang-jung read her eulogy in tears. As she said "It is heartbreaking to think of how you must have spent numerous nights in complete darkness, filled with pain and agony," those in attendance also broke into tears. "It has been 30 years since we first met when you were in Incheon and I was working as a labor rights activist at Guro Industrial Complex," Sim said. "We will keep on the promise and continue to develop progressive politics."
Parliamentary Speaker Moon Hee-sang who hosted the service for the iconic progressive politician said that "Although you've stopped here, the values and spirit that you pursued will resolutely continue. You will be forever remembered by all of us." Rep. Woo Won-shik of the Democratic Party of Korea, kept wiping away his tears. Hong Young-pyo, current floor leader of the ruling party, also lowered his head with a mournful look on his face.
Even in the sweltering heat with the mercury spiking over 30 degrees Celsius, over 2,000 people attended the funeral, and most of them remained seated until the end. After the funeral, some citizens also waited in line for over 30 minutes to lay a wreath. The floor leaders of the ruling and opposition parties began the plenary session with a minute of silence dedicated to the late lawmaker. Kim Sung-tae, floor leader of the main opposition Liberty Korea Party, said, "Roh always tried to be at the side of laborers and ordinary citizens. His love for humanity will be forever remembered." Chang Byoung-wan, floor leader of the Party for Democracy and Peace, cited a poem of German poet Bertolt Brecht who fought against Nazism, saying that Roh was "a witty politician who offered catharsis to Korean people with his pithy remarks."
Meanwhile, the approval rating for the Justice Party rose to a record high since its establishment, a poll showed Friday. The party's approval rating rose to 11 percent, according to a survey conducted by Gallup Korea of 1,002 adults from Tuesday to Thursday (with a 95 percent confidence level and plus or minus 3.1 percent sampling error, according to the website of the National Election Commission). The Justice Party said that 72,341 guests had visited altars for Roh from Monday to Friday across the country.
tree624@donga.com