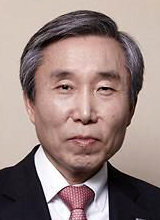 Kim Byung-joon, a lawmaker of the Liberty Korea Party and the head of the Innovation Emergency Measure Committee, is pushing for a plan to recruit outside figures with rich experiences in corporate restructuring as new members. The latest move is designed to remove efficiencies that are considered as the party's "chronic disease" and establish a more transparent system by implementing corporate management principles.
According to the Liberty Korea Party on Sunday, Rep. Kim Byung-joon and other committee members are considering Choi Byung-gil, a former CEO of Sampyo Cement (pictured), as their new member of the emergency measures committee. Having served as a deputy chairman of Woori Bank, Choi headed the finance and strategy division of Sampyo Group in 2010 and led the acquisition of Dongyang Cement (currently Sampyo Cement) in 2015. Having made a bid to become the governor of Woori Bank late last year, he is considered as one of the most competent restructuring experts in the list of candidates.
The main opposition party is holding a standing committee on Tuesday for the voting of proportional representation. As early as on Monday afternoon, about nine to 11 members will have their positions fixed. The party's Floor Leader Kim Sung-tae or Policy Committee Chairman Hahm Jin-gyu will keep their titles as ex officio, with one or two first or second terms lawmakers to be included. In addition, a couple of female members are being discussed as potential shoe-ins. In addition to Choi Byung-gil, Choi Seung-jae, the chairman of the Korea Federation of Micro Enterprise who steadily criticized the Moon administration's drive to raise minimum wage, is also oft-mentioned as an outside member.
Kwan-Seok Jang jks@donga.com