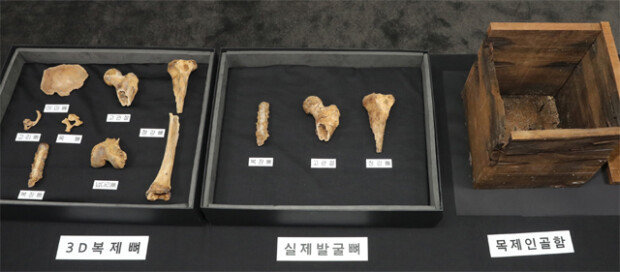 The Buyeo National Research Institute of Cultural Heritage held a press conference on Wednesday at the National Palace Museum of Korea and said it analyzed the 102 bones from the box discovered inside the royal tomb in Iksan, North Jeolla Province and concluded that the bones belong to a man in his 60s to 70s, who is 161~170.1 centimeters in height, and the year of death is estimated at 620 to 659.
This royal tomb in Iksan, which is composed of a large and a small tomb, is a stone-chamber tomb with a corridor. It is the type of tomb, where King Mu of Baekje and his wife Princess Seonhwa are known to be buried. But the controversy surrounding the occupant of the tomb got complicated in 2016 when the analysis of a tooth found in the tomb during the Japanese colonial rule revealed that the tooth belonged to a woman in her 20s to 40s.
In order to determine the occupant of the tomb, the Cultural Heritage Administration and the Baekje cultural research institute of Won-kwang University started excavating the tomb after 100 years since Japan dug into the tomb in 1917. As a result, they found a box of 102 human bones inside a burial chamber.
The research institute and the Applied Anatomy Research Institute at Catholic University of Korea jointly studied the angle of the elbow bone and the size of the talus and determined that the bones belonged to a male adult. "The occupant is believed to be 161-170.1 centimeters in height, which is relatively tall considering the average height of male adults at that time is 161.1 centimeters," said Lee Samg-joon, the director of the research institute. "The result of the analysis matches the description of King Mu in Samguk Sagi that said he is a fine figure of a man who is broad-minded and high-spirited."
The institute also said that the fact King Mu is the only king in Baekje who died between 620 and 659 increases the possibility that the royal tomb belongs to him.
Won-Mo Yu onemore@donga.com