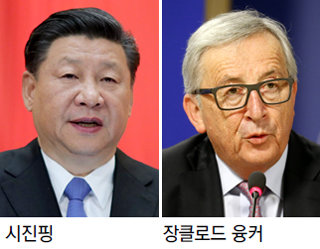 The 20th E.U.-China summit will be held in Beijing on Monday and is expected to become the sweetest-ever honeymoon in their relationship. Economic issue will be one of key agendas given that the European Union and China alike are struggling in a trade war with the United States. It is expected that the two sides will put mutual emphasis on multilateralism and free trade as their common ground in their opposition to the Trump administration's policy direction of isolationism and protectionism.
During the scheduled summit with its European counterpart, the Chinese government seemingly hopes the current U.S.-China trade war will grow into a broader face-off between the United States and the rest of the world. Last week, it was mainly a symbolic gesture that the Chinese government sent Liu Xia, the widow of the Chinese human rights activist Liu Xiaobo, to Germany upon its strong requests, in an attempt to win over the hearts of the West.
Such a move from the Chinese side could bring a golden opportunity for the European Union during this summit. Even in the trade war with the United States, the European Union still has many more cards up their sleeves than China does. One of E.U. strategies is to secure some major concessions from China regarding a series of long-standing issues, about which the European Union has complained, such as China's market entry restriction and infringement of intellectual property.
The European Union commented that the two sides would expand their strategic relationship and mainly discuss trade and investment.
Jung-Min Dong ditto@donga.com · Wan-Jun Yun zeitung@donga.com