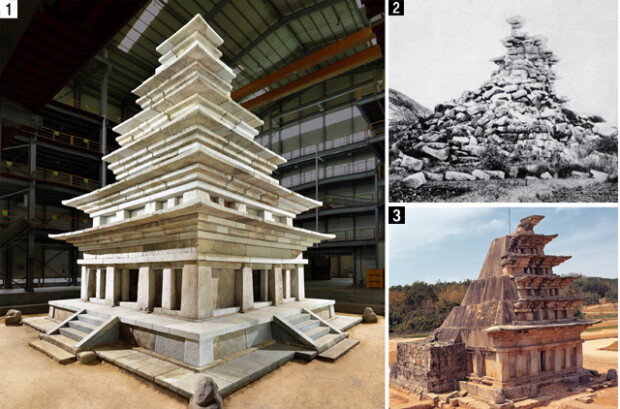 The west pagoda at Mireuksa Temple site, the oldest and the largest Korean stone pagoda in existence, in Iksan, North Jeolla Province (Nation Treasure No. 11) has been unveiled Wednesday after 20 years of restoration work.
The stone pagoda was built during the reign of King Mu (600-641) of the Baekje Dynasty, who led the country during its heyday and is the protagonist of the "Seodong's song." The pagoda, which was located west of Mireuksa, consists of three towers and halls. The pagoda has its unique beauty as it adapted building techniques of wood pagodas, being assembled with about 2,800 building stones. The construction year of the pagoda was revealed to be 639 when "Sari Jangeomgu" was found inside the Simjuseok (pillar stone of the pagoda) during excavations in 2009.
The stone pagoda was badly damaged with time. Some part of the pagoda collapsed due to an earthquake during the Unified Silla era. In "Wayurok" written in the 18th century by the Joseon era writer Kang Hu-jin, there is a record that the stone pagoda was once a seven-floor pagoda. During the Japanese colonial rule in 1915, Japan conducted an examination on the stone pagoda and thought it needed an emergency restoration. As a result, it covered the west side of the stone pagoda with concrete. This explains the shabby concrete repair on the pagoda we saw on textbooks.
A safety analysis conducted on the pagoda in 1998 found that the concreted was old and the pagoda was structurally unstable. So the government decided to restore the pagoda and started to disassemble it. The problem was there were no historical records that show the original shape of the pagoda. It was estimated to be 25 meters in height with nine floors but there were proven records only showing that the pagoda was six floors high.
After thorough discussions, experts decided to make it a six-floor pagoda. The restoration team used as many original stone pieces as possible, up to 81 percent. The restoration project for the pagoda has been underway for 20 years, the longest for a single cultural property. It took as many as three years to remove the 185-ton concrete Japan covered on top of the pagoda.
Meanwhile, the stone pagoda at Mireuksa Temple site will be open to general public in November when the exterior structure surrounding the pagoda is completely removed. The whole construction process is expected to be finished around March 12, next year. The stone pagoda will go back to its original shape exactly in 1,380 years after the sarira was enshrined inside the pagoda in 639.
Won-Mo Yu onemore@donga.com