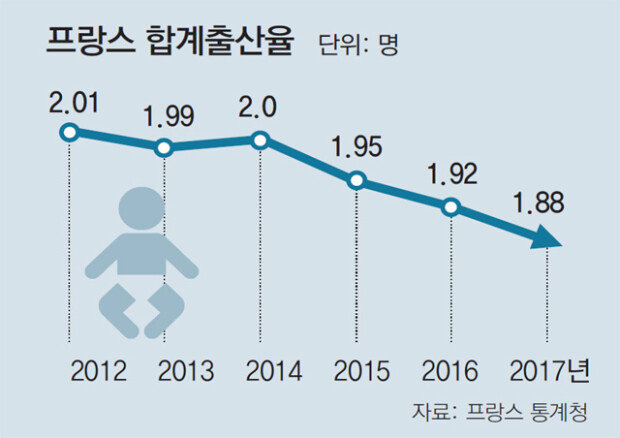 The National Hospital of Cart Ville in the western suburbs of Paris has a department of Obstetrics and Gynecology where the number of newborn babies hit more than 3,000 babies every year. Joel Bleshualart, a prominent specialist and ob/gyn chief, said he is actually witnessing that the country's fertility rate is falling when he met with this reporter at the hospital in April 12.
France has been the most fertile country in Europe since 2010 with more than two children born per woman. However, the country is seeing its birth rate declining at an alarming rate. France' birth rate fell to 1.88 children last year and the figure is on a steady decline over the recent three years, although it is still higher than the European average with 1.6. The country saw a whopping 11 percent decline in its fertility rate over the past six-month period starting from October last year to March this year. Its average number of newborn babies per day fell to 1,816 in March, from 2,061 last October.
France's birth rate, which merely stood at 1.6 children back in 1996, began to significantly increase in the 2000s. The increase has been linked to its social atmosphere that views having children without tying the knot as well as the government support for child birth and rearing. In 1999, the French government introduced a civil solidarity pact commonly known as a PACS to recognize a civil union between two adults regardless of whether they are married or not, which provided family support for couples. The number of couples applying for the PACS soared to 192,000 from 22,000 in 2000, but that number remained stagnant in recent years.
The French government used to spend about 5 percent of the country's GDP in granting the family benefits for young children and mothers, but the administrations under the leadership of Macron and his predecessor have been tightening the budget, which has also led to a growing financial burden on young couples who want to start a family.
Jung-Min Dong ditto@donga.com