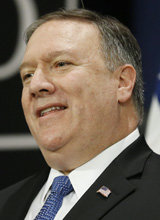 What is the driving force behind Secretary of State Mike Pompeo, one of President Trump's most trusted aides? The Trump's administration's top diplomat reportedly has ambition to become president of the United States, according to American political journalism company Politico.
Pompeo was known for his hawkish foreign policy while he was the CIA director. He publicly mentioned change of the North Korean regime and supported U.S. exit from the Iranian nuclear deal. But he seemed more like a "dove" when meeting with the North Korean leader Kim Jong Un twice. Pompeo has been using "carrots" than "sticks" when mentioning North Korea on the media ahead of the Trump-Kim meeting.
Politico explained the reason behind Pompeo's transformation by saying, "He needs his term as secretary of state to be a success and recognized as such" in order to aim for a higher position. His goal of succeeding in the political circle changed him into a pragmatist.
In fact, Pompeo's recent moves have been pragmatic, which could not have been expected from the Trump administration. He contacted Hillary Clinton, Trump's political opponent, and former Secretary of State John Kerry to ask for help for his confirmation hearing. And he made efforts to keep the Iranian nuclear agreement with top European diplomats even though he was aware that President Trump had the intention of withdrawing. He is the epitome of the proverb "Office changes manners."
But in the "chaotic White House," there has never been a number two man, who was trusted until the end. Pompeo suffered "one defeat" by failing to salvage the Iranian nuclear deal. The New York Times pointed out that Pompeo had been telling his European counterparts until a few days before the U.S. withdrawal from the nuclear deal that "he believed that there was a chance that the two sides could come to an agreement on the last sticking point."
Gi-Jae Han record@donga.com