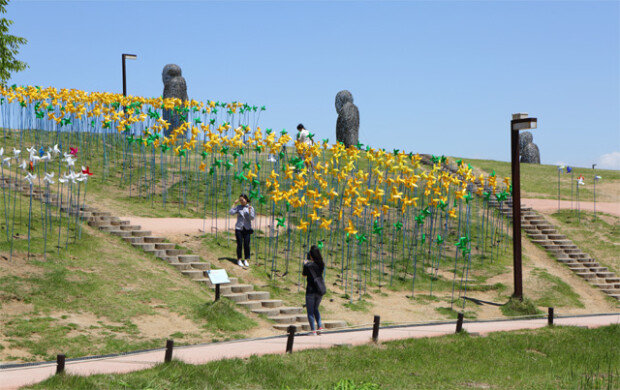 Dokkebi (a.k.a Guardian: The Great and Lonely God), the tvN produced drama that won the hearts of many fans with unforgettable scenes and lines, features two locations in Anseong, Gyeonggi province. In the drama, a love story of between Gong Yoo, the protector of souls, and his bride Kim Go-eun, the male protagonist flies a sky lantern at a Buddhist temple named Seoknam, known for its beautiful stone steps leading to the main sanctuary. The other location is Martyrs Memorial Catholic Church in Mirinae, Anseong, where the female protagonist summons her lover. The site was once a village where the prosecuted believers lived together. It is also known as a historic site where the martyred Saint Andrew Kim Tae-gon was buried.
The movie Architecture 101, which stirred up a nostalgia for first love, the male lead Seung-min (Lee Je-hoon) and the female lead Seo-yeon (Su-ji) are featured in a scene where the two spread out their arms and walk on a railroad at a station they visited to do their homework. The audience felt their hearts beat. The train station is the Dudune Station in Yangpyeong, Gyeonggi Province. It first opened in 1940 but closed down and remains a temporary station. It has nine themed spaces including the "Garden of Confession." Visitors may take Polaroid photos, write their wishes and fly sky lanterns on the railroads.
In the movie Wolf Boy, starred by actor Song Joong-ki, which was released in the same year as the aforementioned movies, features a scene in front of the Bidulginang Waterful in Pocheon, Gyeonggi Province. The waterfall, created by the erosion of basalt stone, creates fantasy-like scenery. Nearby are a wildflower ecological park and camping sites. Visitors can enjoy a night out in the nature.
In the MBC drama "She Was Pretty," a television series aired in 2015, Hye-jin (played by actress Hwang Jung-eum), the cute childhood girl that grows up to be quite the contrary, and dork-turned handsome guy Seong-joon (actor Park Seo-joon) are often filmed at the Heyri Village in Paju. The reed square, where Hye-jin visits to read the book she received as a gift, is a perfect picnic place for families. The guesthouse known as the "Forest of Thoughts: Motive One" is where the couples lived after marriage. Its library holds 10,000 books.
Kyung-Hyun Nam bibulus@donga.com