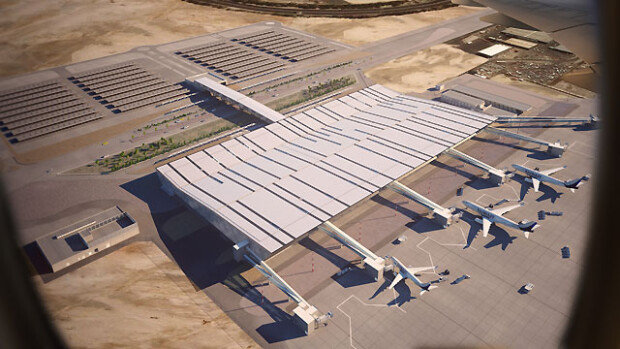 Incheon International Airport Corporation (IIAC) has won a 140 billion won project to operate the new Terminal 4 at Kuwait International Airport. Taking this opportunity, the Korean airport corporation aims to actively acquire operating rights of airports in the Middle East.
The Ministry of Land, Infrastructure and Transport announced Monday that IIAC won the bid to operate the new terminal of Kuwait International Airport. The Korean airport company will be responsible for the operation and maintenance of the Terminal 4 by 2023 after completing the test operation for three months from May to August.
Kuwait International Airport is a regional aviation hub with passenger traffic reaching 12 million last year, according to IIAC. The Terminal 4, which will open in the second half of this year, is an international terminal that is capable of accommodating up to 4.5 million passengers a year. Kuwait's national carrier Kuwait Airways will be offering services at the new terminal.
This is the first overseas airport project won by IIAC in nine years after Iraq's Erbil International Airport project in 2009. In the past nine years, the Korean company has lost multiple bids, including Myanmar's Hanthawaddy International Airport in 2012, India's Goa International Airport in 2016 and Serbia's Belgrade Airport in 2017. This time, IIAC beat ADP of France, Fraport of Germany, TAV of Turkey and DAA of Ireland to become the operator of Kuwait International Airport.
"The Kuwaiti government highly acclaimed our experience in successfully opening the Terminal 2 of Incheon International Airport this year," an IIAC official said.
The Ministry of Land, Infrastructure and Transport is planning to build on the experience and win the contract for the operation of the Terminal 2 of Kuwait International Airport. The Terminal 2, which can accommodate 13 million passengers a year, is currently under construction with the goal of completion in 2022. As the Kuwaiti government has launched "New Kuwait 2035" project to develop the city into a regional logistics and finance hub, Korean businesses will have more opportunities to enter the Kuwaiti market in many sectors other than aviation.
Ho-Sung Cheon thousand@donga.com