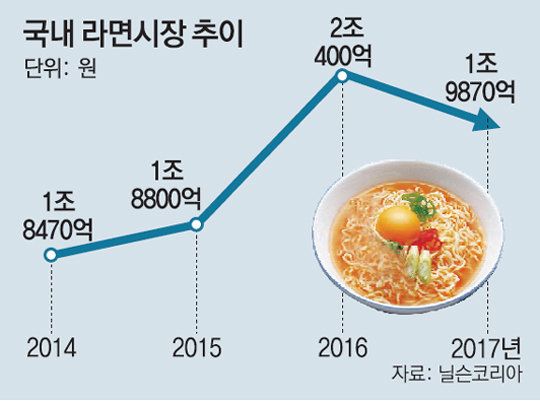 South Korea's domestic ramen market showed a negative growth for the first time in four years after enjoying a period of robust growth led by new products such as a spicy seafood noodle Jjambbong and a stir-fried noodle Bokkeummyon. Sales of instant noodles in the country contracted to below 2 trillion won, due to an absence of new products to make a big hit and an exponentially growing home meal replacement (HMR) market, which attracted single-person households who prefer easy-to-eat meals.
According to statistics released on Sunday by Nielsen Korea, the total sales of the country's major ramen manufacturers – Nongshim, Ottogi, Samyang and Paldo – amounted to 1.99 trillion won in 2017, down 2.6 percent from the previous year.
Figures showed the sales of all four manufacturers fell last year. Nongshim's sales decreased to 1.12 trillion won, from 1.13 trillion won in 2016. The company's market share, which had hovered around 60 percent until 2015, dropped to 56 percent in 2017.
Ottogi's sales stood at 457.5 billion won, down from 477 billion won the previous year. On the back of strong demand for its new product Jin Jjambbong, the company enjoyed a rapidly growing market share, which jumped to 23 percent in 2016 from 16 percent in 2014, but saw its sales slightly down last year.
A lack of big hit products and a growing HMR market driven by an increasing number of single-person households have all contributed to the decreased sales. The recent trend in consumers preferring easy-to-prepare meals to instant noodles, led by the release of a wide range of HMR meals, has been affecting the domestic ramen market, industry watchers said. This trend is expected to continue with a growing market for precooked meals.
Seng-Hyun Kang byhuman@donga.com