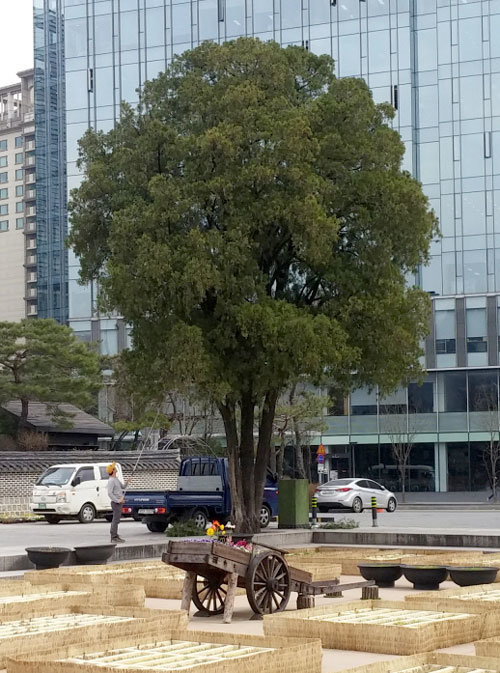 An arborvitae more than 100 years old will be moved to Gwanggyo, Suwon City in Gyeonggi Province from Gwanghwamun, Seoul, where the old Gyeonggi province office building was located.
The Gyeonggi provincial government announced Tuesday that the tree at Yeolin Madang, Gwanghwamun would be moved to Gwanggyo History Museum in Yeongtong, Suwon. It will transplant the tree once a new office building in Gwanggyo is completed in December 2020.
The tree was planted when the old Gyeonggi province building was constructed in Sejongno, Seoul in 1910. The tree is 13 meters long and 13 to 15 meters wide. The office moved to Suwon in 1967, but the tree stayed. The Gyeonggi provincial government has been making efforts to keep the history of the tree, and the Seoul city government agreed to transplant it in last August.
"Yeolin Madang in Gwanghwamun was included in the excavation and investigation plan of Seoul City's history museum, which expedited the transplant schedule," said an insider of Gyeonggi Province's construction department. "It won't be easy to transplant and grow it because it's an old tree, but we are going to take a special care for it with tree experts."
Kyung-Hyun Nam bibulus@donga.com