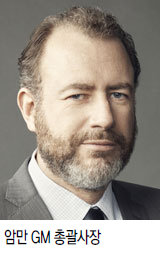 GM headquarters in the United States has made it clear that it will put an end to the crisis with GM Korea by April 20. It has also raised the level of pressure by banning employee travel to GM Korea sites as some union members recently entered and took over the office of GM Korea's CEO.
"Common ground must be reached on a long-term financial restructuring of GM's South Korean auto unit by next Friday and if there was none, the operation would likely seek bankruptcy protection," GM President Dan Ammann told Reuters in an interview. This is to say GM will give up on GM Korea unless there are tangible results, such as reduction of labor costs, until April 20.
GM Executive Vice President Barry Engle, who is responsible for overseas operations, earlier gave GM Korea union workers a deadline of April 20 and said if the two sides cannot reach a deal, GM Korea will have no choice but to file for bankruptcy.
Eun-Taek Lee nabi@donga.com · Yoo-Hyun Kang yhkang@donga.com