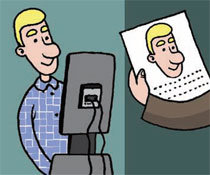 Scrutiny of social-media giant Facebook is ramping up after revelations that an analytics firm used by Donald Trump's presidential campaign improperly received data of some 50 million users in 2016. Voter-profiling company Cambridge Analytica (CA) induced Facebook users to download a phone application "This is your digital life." The app was ostensibly for personality tests, but the data was used to analyze the users' political orientation based on their activities on the social media. Donald Trump was able to work out strategies customized for them using the data. One-fourth of American voters were affected.
Facebook users mindlessly "like" various postings. But their traces can become meaningful data when gathered and analyzed. Stephen Bak, former senior writer at BusinessWeek, said American voters can be categorized into 10 "tribes" based on information on social media such as neighborhood, race and whether they have children or pets. He also said this data can affect elections, and the concerns have turned out to be valid.
Trump's election campaign spent 70 million dollars every month for digital operations using the data received from CA. A week before the election, Facebook came in handy to campaign against Democratic candidate Hillary Clinton. Postings saying "Hillary thinks African Americans are super predators" were shown to voters with African heritage, and the Trump camp was reportedly satisfied with this "customized" election campaign.
Facebook is scrambling to straighten out the incident, but the risks of personal information leakage are ever-growing. Numerous businesses and organizations are tracking down traces online. The New York Times introduced seven tips to protect private information on Facebook, which included doing a privacy checkup in settings and double-checking when agreeing to provide information to a third party. Now Facebook users will have to think twice before liking a posting.
Su-Young Hong gaea@donga.com