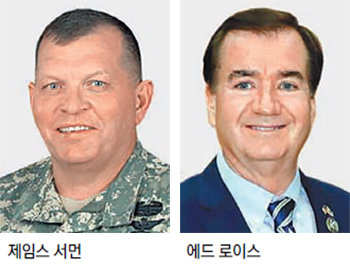 Senior Republican Congressman Ed Royce, chairman of the House Foreign Affairs Committee, and former U.S. Forces Korea Commander James Thurman have emerged as strong candidates to be the new U.S. ambassador to South Korea, where the post has remained vacant for over a year, the South China Morning Post reported on Wednesday.
According to the Hong Kong daily, the two are being considered for the position since Victor Cha, the Korea Chair at the Center for Strategic and International Studies(CSIS) in Washington, was withdrawn in late January from consideration over differences with the White House over military strikes on North Korea.
The two visited South Korea as members of the high-level U.S. delegation, led by U.S. Vice President Mike Pence, to the PyeongChang Winter Olympics last month. The newspaper quoted a source as saying that their participation in the delegation is a "good signal" that they were being considered for the ambassadorial post. Another source was also quoted as saying that the White House is considering the two as candidates for the job but that no decision has been made yet.
Considering that the Trump administration's national security team consists only of former military commanders, Thurman's appointment as the U.S. ambassador to Seoul would result in stronger hardline voice in the White House against North Korea.
wizi@donga.com