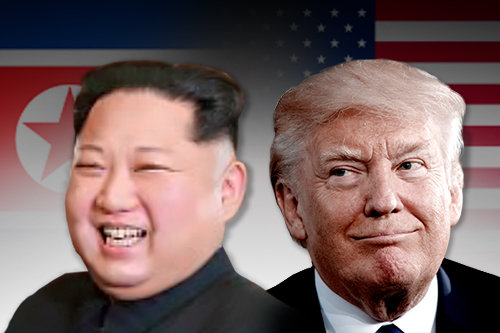 China officially welcomed the announcement that U.S. President Donald Trump and North Korean leader Kim Jong Un planned to hold a meeting by May on Friday at the Foreign Ministry's regular press briefing. Chinese state-run media have also expressed surprise, reporting break news about the would-be first meeting between the two leaders.
The People's Daily website, which tends to refrain from using provocative wording in its reports, titled its breaking news "Big event! Trump agrees to hold a meeting with Kim Jong Un by May," using a word it may not usually choose for a title. The website also pointed out in another article that although it would be hard and tough to diplomatically resolve North Korea's nuclear issue, negotiation may allay concerns of a possible war breaking out. The Xinhua News Agency, China's official state mouthpiece, also reported the announcement of the North Korea-U.S. meeting with a title "Significant change! Trump meets with Kim Jong Un by May." "President Trump said that great progress had been made but there would be no prospect of lifting sanctions until a deal was reached," it also said in another report.
Diplomatic sources say that Beijing, while welcoming the news, would also have concerns about it being possibly bypassed by Washington and Pyongyang in future negotiations on denuclearization, despite its support for the international community's economic sanctions at the cost of the bilateral relations with North Korea. This leads some experts to speculate that China will make efforts to improve its relationship with North Korea, keeping a keen eye on how the inter-Korean and North Korea-U.S. summit meetings play out.
China's Foreign Ministry, as if conscious of the speculation that it may be excluded in the process of future negotiations, has repeatedly stressed that it has played an active and constructive role in addressing issues on the Korean Peninsula and has been recognized by the international community. This can be seen as Beijing's efforts to dispel such speculation by arguing that the current dialogue is based on the direction continuously pushed forwarded by the Chinese government.
Wan-Jun Yun zeitung@donga.com