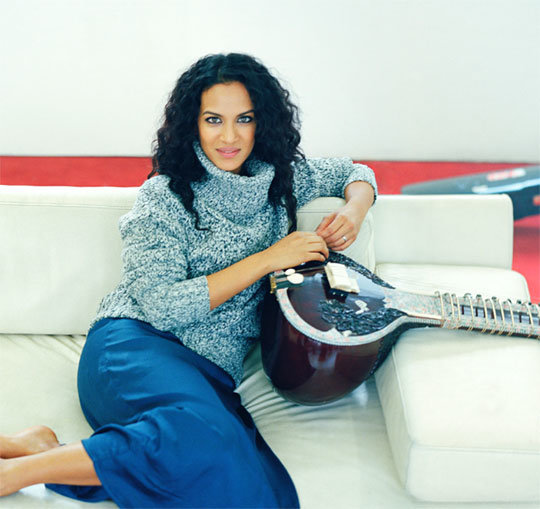 The cheery rock and roll song "I Want to Hold Your Hand (1963)" and dreamy masterpiece "Within You Without You (1967)" are all songs by The Beatles.
Their songs are divided into before and after India. Their guitarist George Harrison (1943-2001) started to learn the Indian instrument "sitar" under sitar master Ravi Shankar (1920-2012). Starting with him, other members of the band fell into the Indian music and philosophy. Affected by the Indian culture, they successfully raised their music to the level of art.
The Dong-A Ilbo had an email interview with Anoushka Shankar (37), daughter of Ravi Shankar who is also a sitar player. She called Harrison "Uncle George." She is the half-sister of pop star Norah Jones.
To Anoushka, father was a synonym for teacher from the age of seven. When Anoushka, who Ravi Shankar had fathered at the age of 60, became nine, the sitar master took her to his world tour as a sitar player. On the last stage of his life in 2012, Ravi performed with her daughter. That year, he and his daughter both got nominated for the Grammy Award for Best World Music Album. Ravi died a few days hearing that news.
Anoushka will have her first performance at the LG Art Center, in southern Seoul at 8 p.m. next Thursday. She will mostly play songs from her 2016 album "Land of Gold." These songs depict the predicament of the international refugees. "When I was pregnant with my second child, I felt sorry and terrible for the refugees, who risk their lives for their children," she said.
imi@donga.com