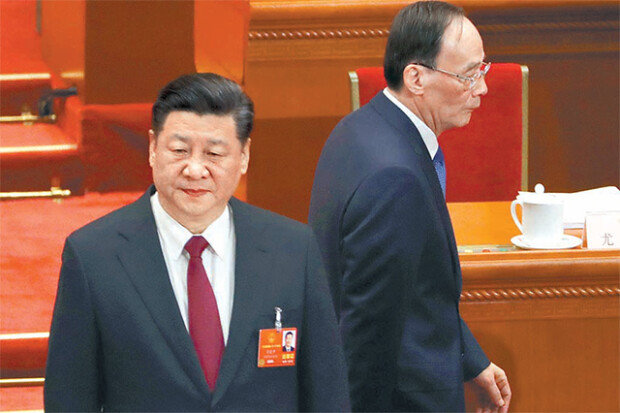 Wang Qishan, the former Chinese Secretary of the Central Commission for Discipline Inspection who remained reclusive since his retirement following the 19th National Congress of the Communist Party of China in October last year, made a public appearance on Monday, a first since the congress. A right-hand man of Chinese President Xi Jinping and highly probable vice president of China, Wang Qishan showed up at the opening ceremony of the National People's Congress (NPC) in Beijing, along with the seven members of China's politburo standing committee including President Xi and Premier Li Keqiang.
The NPC gathering on Monday presented a target for this year's economic growth at 6.5 percent, the same as the previous year. And the national budget has expanded by 8.1 percent compared to last year. This year, China's defense budget for 2018 stands at 1.1069 trillion yuan (174.6 billion U.S. dollars), an all-time high. The country's defense budget was on the decline, with the increase rates of the defense budget recorded at 7.6 percent in 2016 and 7 percent in 2017, respectively.
While it is far from the two-digit increase rates witnessed before 2016, the modest surge in China's defense budget this year reflects the country's plan to engage in a competition for military hegemony against the United States in line with President Xi's announcement at the 19th national congress to make his country No. 1 military powerhouse by 2050.
Citing threats to its national security, China is recently expanding military spending by building nuclear-powered aircraft carriers.
"China claims to resolve trade conflicts through fair negotiations. We must oppose protectionism while resolutely upholding our legitimate rights and interests," said Premier Li, in an apparent reference to a trade war with the United States.
Wan-Jun Yun zeitung@donga.com