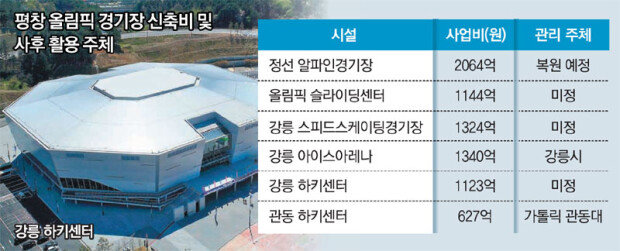 The PyeongChang Olympics was a success. But there are still works to be done: what to do now with the facilities praised by the International Olympic Committee and Olympic athletes.
Thanks to the excellent facilities, Korean athletes were able to make a new record of 17 medals in six games in the PyeongChang Winter Olympics held from Feb. 9 to Feb. 25. But the country still has not figured out how to utilize the Olympic facilities afterwards. In the worst case scenario, billions or even tens of billions won of tax money will be wasted every year to maintain the facilities. The government, Gangwon Province, the PyeongChang Organizing Committee for the 2018 Olympic and Paralympic Winter Games and various sport organizations are putting their heads together to find a solution.
The hardest dilemma is that there are not many people to use these great facilities. The Gangneung Speed Skating Oval, Ice Arena and Hockey Centre will be used as a multi-purpose sports-leisure facility or a concert hall — similar facilities with similar purposes. As of the end of 2017, the population of Gangneung City was 213,952, certainly not enough to cover the Olympic facilities.
Lee Hee-beom, president of the organizing committee, said, "We will find ways to utilize facilities in Gangneung and PyeongChang for the 2022 Beijing Winter Olympics," while Gangwon Governor Choi Moon-soon said that the provincial government will make efforts to host the 2021 Asian Winter Games. But these one-off events will not permanently solve the financial issue.
Olympic facilities in Salt Lake City, the United States and Calgary, Canada are crowded with local residents all year round. Some facilities are in the black, and even if those that record deficits are not too much of a burden to local governments.
Heon-Jae Lee uni@donga.com