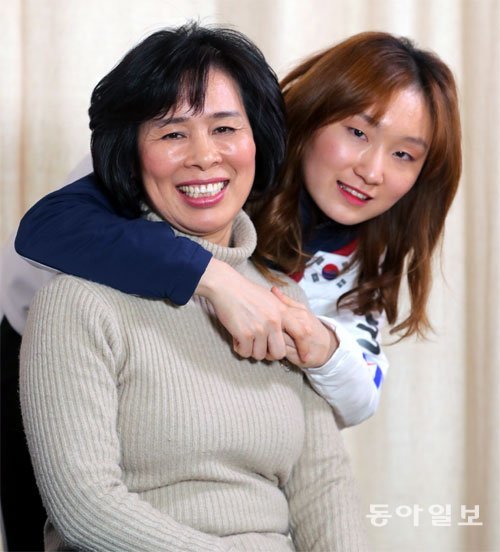 "I want to go to the campus (of Yonsei University) and take classes," said Choi Min-jung, the South Korean short-track speed skater who won two gold medals in the PyeongChang Winter Olympic Games, when asked of what she wants to do after the Olympics are over. Industriousness was a quality that allowed her to win two medals in the Olympic Games. Her homeroom teacher in her third year in high school remembered her as a "student who was always dressed modestly."
"Things have been quite hectic after the games, and it has not sunk in yet. Now that the games are all over, I get some lingering feelings," said Choi in an interview on Saturday at P&G House in Yongpyeong Resort, which was joined by her mother, Lee Jae-soon. The only South Korean athlete who has won two golds in Pyeongchang had as many as five different schedules on Saturday alone. Choi and her mother also took part in P&G's "Thank You Mom" campaign.
"I had planned to visit a temple and give a prayer there alone, but she seemed rather disappointed. Visiting the stadium made me realize how massive the Olympic stage is. I felt both sorry and proud of her," said Lee, who watched her games in the women's 1,500-meter and 1,000-meter events at the stadium.
Lee wrote a letter for her daughter and sent it to her, who was staying at Jincheon Athletes' Village, preparing for her first Olympics. The letter proved to be an encouraging gift for her throughout the games. Of course, Choi is a good daughter who never forgets to send cakes and flowers to her mother on her birthday and Parents' Day. Choi and her mother are going to take a trip to Switzerland this year.
Taking heed of her mother's advice "not to lose yourself," Choi is determined to keep her race unswerving just like she did in the Olympic Games. As early as on March 16, Choi is participating in the world championship, which will take place in Canada. Choi, who is still wearing a leg supporter for the injury of her right leg that she sustained from the final race of the 1,000-meter event, dismisses it as a light contusion.
When asked what her life goal is, the 19-year-old skater said, "I want to be a more modest and a decent person." The double gold medalist is far from arrogance, but shows world-class skills and earnestness. The interview with Choi Min-jung has convinced me that her era will continue for a while.
Hong-Gu Kang windup@donga.com