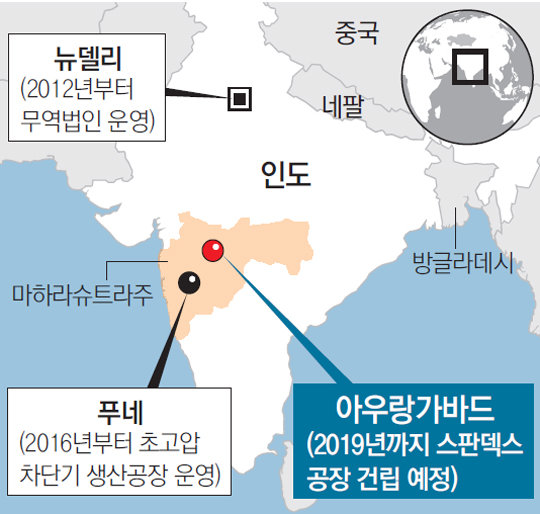 Hyosung will construct a spandex factory of spandex, high-functioning elastic synthetic fiber, in India by 2019. Hyosung's spandex brand "Creora" has the largest share in the global market.
The company said Hyosung Chairman Cho Hyun-joon met with Indian Prime Minister Narendra Modi in Mumbai, India, and agreed to invest 100 million U.S. dollars (around 107 billion Korean won) to build a spandex company in Maharashtra state, western India. This is another overseas investment of Cho who met with Vietnamese Prime Minister Nguyen Xuan Phuc on February 8 to spoke of his wish to invest in Vietnam.
Chairman Cho explained Modi that he wants to invest in India and Vietnam as a strategic foothold to prepare for the company's 100 years into the future. Hyosung has been promoting a "Post China" strategy to respond to ever-increasing production cost in China. Hyosung Vietnam's plan is to build a global outpost producing core products such as spandex and tire cord for Europe and Asia, and Hyosung India will target India's domestic market.
"In India, one of the world's largest textile markets, we also expect the consumer market size to grow at an outstanding pace," said Cho. "Hyosung hopes to grow together with the Indian economy as we are receiving outpouring support from the country in building the factory." To this, Modi answered, "We will provide a business-friendly environment so that Hyosung could keep investing in India."
Hyosung has been operating a trading corporation in New Deli since 2012 after starting a business in the city in 2007. It expanded the business by constructing an ultra-high voltage circuit breaker factory in Pune city in 2016, and has been racking up annual sales of more than 300 million dollars since.
Ji-Hyun Kim jhk85@donga.com