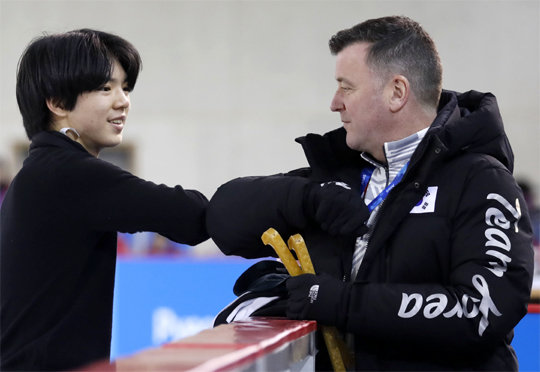 Brian Orser, who coaches male single figure skater Cha Jun-hwan, was full of confidence. The Canadian coach instructed Cha's first official training that was held at the Gangneung Ice Arena in Gangwon Province on Wednesday. According to Orser, Cha will be attempting a quadruple jump at the Olympics' male single event (free skating).
"Cha Jun-hwan is still young. He should not cling to the quadruple jump," said the coach. This seems to imply that Cha, who suffered from an ankle injury at the end of last year, will focus on stable acting rather than a quadruple jump that may become a physical burden to the young skater.
"I realized I was participating in the Olympic games when I heard an announcement saying, 'We welcome athletes who are participating in the Olympics' before I started my training," 16-year-old Cha said after finishing his training. "As much as this is my first Olympics, I want to show a clean performance."
On the same day, coach Orser gained attention for wearing "Team Korea" padding provided by the Korean Olympic Committee and an Olympic AD card of Korea's national team. During this Olympic games, he is instructing five athletes from five different countries, including Yuzuru Hanyu (Japan) and Javier Fernandez (Spain), other than Cha.
Yun-Cheol Jeong trigger@donga.com