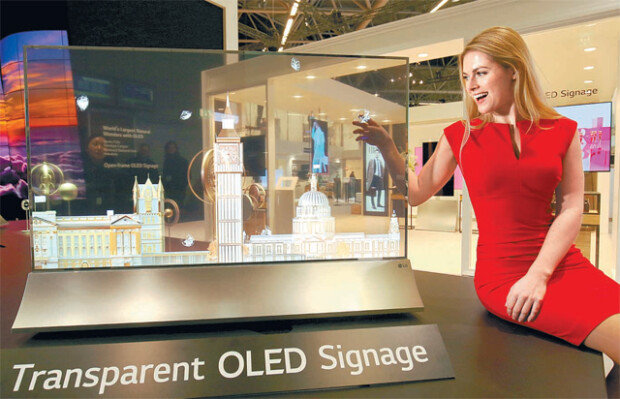 In the upcoming Integrated Systems Europe (ISE) 2018 to be held in Amsterdam from Tuesday to Friday (local time), LG Electronics will unveil its latest developments such as Transparent OLED Digital Signage and optimal solutions adaptable to any business.
At ISE 2019, Koo Kwang-mo, head of the Information Display business unit as well as LG group Chairman Koo Bon-mu's oldest son, will make his official debut on the international stage. "ISE is one of the major exhibitions where companies around the world showcase their futuristic displays. It is also the first global exhibition led by Koo Kwang-mo since he assumed the leadership of the display business," said an industry insider. "He will not only be in charge of the exhibition but also hold meetings with related companies."
The centerpiece of LG's ISE booth is its Transparent OLED Signage and Open Frame OLED Signage, which will show the fruit of the most advanced display technology. Its 55-inch Transparent OLED Signage features an outstanding picture quality and transparent design. The state-of-the-art digital display allows users to see product information and check related items at the same time as products can be placed behind video or image.
The shape and size are designed to fit the contours of any space and can also be tailored for multiples use, such as an interior decoration element that goes well with products.
Jae-Hee Kim jetti@donga.com