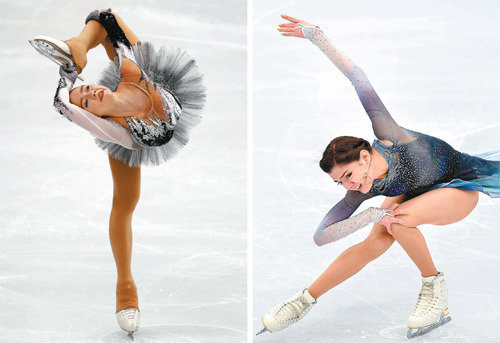 After successfully finishing her short program, Russian figure skater Alina Zagitova shouted for joy with her two fists clenched as Russian compatriot and world champion Evgenia Medvedeva grimaced, sticking her tongue out at the end of the program.
What drew most attention at the International Skating Union (ISU) European Figure Skating Championships held in Moscow, Friday, was a fierce rivalry between rising star Zagitova, who ranks 15th in the world, and Medvedeva who holds the world's No. 1 title. The 16-year-old Zagitova, in her first season of senior competition, won both the ISU Grand Prix Final and Russian national championship last month while Medvedeva was sidelined with a fractured foot (a cracked metatarsal bone).
It was Zagitova who took the lead at the competition on Friday. She finished with 80.27 points, setting a new personal best, which fall short of Medvedeva's world record of 80.85 points by a mere 0.58 points. Zagitova nailed all of her jumps, getting additional points for her triple combinations. "I think it was my best short program performance this season. It's my first Europeans, but I was able to calm down and show what I have worked on with my coaches," Zagitova said.
Medvedeva, meanwhile, seemed to be not warmed up enough. She finished second with 78.57 points after stepping out of her double axel, a last jump of her short program Friday. "I'm not pleased with my performance today but I still have time to make adjustments," said Medvedeva. "I had to take a break from training because I was in a cast for three weeks. But now I don't feel the injury, and I'm happy to come back to the ice and skate."
The final result of the neck-and-neck competition between the strong contenders for the gold at the PyeongChang Winter Olympics will come out Saturday, when they contest with their free program.
Yun-Cheol Jeong trigger@donga.com