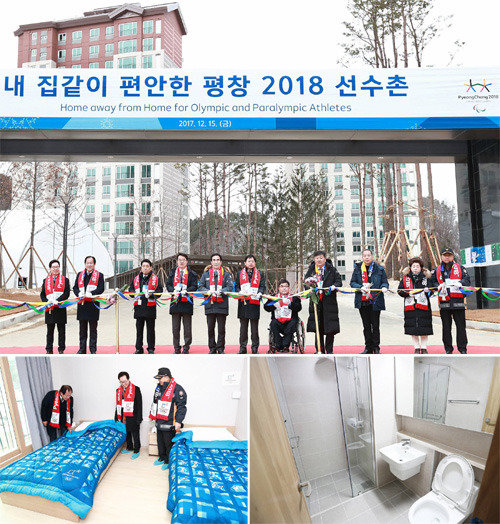 A banner saying "Home Away from Home for Olympic and Paralympic Athletes in Pyeongchang" welcomes visitors at the entrance to the Pyeongchang Olympic Village.
The Olympic Village, which is a five-minute drive away from the Olympic Stadium, the venue for the opening and closing ceremony in Pyeongchang, looks like a luxury apartment complex in a forest. Construction of facilities is well underway at multiple locations within the complex. The Pyeongchang Olympic Village was open to the press through an inaugural ceremony on Friday in Pyeongchang County, Gangwon Province.
Two athletes will share each room that is furnished with beds, closets and a small table. Comforters of different colors have been put in place in the rooms according to the type of sports and events. Rooms for snow sports athletes are provided with comforters in blue and athletes for ice sports with comforters in red, while players for Paralympic sports come with comforters in green. These comforters featuring pictograms will be given away to athletes as souvenirs when the Olympic Games end. Auxiliary beds will also be provided for taller athletes. Rooms with a floor space of 72 sq. meters and 85 sq. meters come with a bathroom for Paralympic athletes.
Various amenities are ready for athletes, while menus of seven different foods including hanshik (Korean), Japanese and Chinese will be provided. Resident center, fitness center, recreation center and religious center will be located in the Pyeongchang Olympic Village to offer convenience to residents. Athletic Village Plaza is housing beauty parlor, post office and travel agency.
The PyeongChang Organizing Committee for the Winter Olympic Games plans to complete construction by the end of this month, and continue working until the village's opening on February 1, 2018.
Hong-Gu Kang windup@donga.com