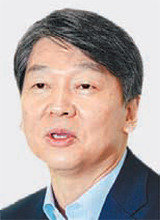 The camp of Rep. Ahn Cheol-soo, former co-chair of the People's Party, is proposing the optimistic possibility that Ahn could be made president on the back of shy voters in the same way Donald Trump was elected president of the U.S.
"More than half the voters in their 20s and 30s are endorsing Moon Jae-in, former chairman of the main opposition Minjoo Party of Korea, with many of them being fervent supporters, and this makes Ahn's supporters shy away from expressing their political affiliations in fear of becoming an outcast," explained an official of Ahn's camp on Monday. He said that Ahn's fluctuating career trajectory, characterized by his resignation from presidential candidacy in 2012 and integration with the Minjoo Party, is making it difficult for his supporters to say who they would like to vote for.
Another reason for such an optimistic theory is the fact that Rep. Ahn has either won or managed a tie in most elections from the April 23 by-elections in 2013 to the April 13 general elections last year. Against this backdrop, Ahn has remained confident in handling questions about his low approval ratings, saying, "My approval rating before the last general elections was 14 percent, but we garnered 26.74 percent of votes. Just add 12 percent." He points out that surveys do not fairly reflect reality.
The People's Party is of a view that the Constitutional Court's ruling on President Park Geun-hye's impeachment and Minjoo's internal election to field a presidential candidate will serve as variables that can turn around the political tide. Ahn's camp expects that should Rep. Moon Jae-in be nominated as candidate, this will foment "Moon Jae-in phobia" among the middle-of-the-road and conservative constituencies as claimed by Rep. Park Jie-won, driving away voters from Moon to Ahn.
This scenario proposed by Ahn's camp also reflects their hope for an increase in his approval ratings. In other words, Ahn's followers are envisioning that he will follow suit of Donald Trump, who started with an approval rating of less than 1 percent but became president of the U.S. eventually.
Skepticism remains strong, however. "Most supporters of Rep. Ahn went for him out of antipathy against the political establishment, not out of loyalty," claimed Yun Hee-ung, director of the public opinion analysis center of Opinion Live, a local pollster. "Few are trying to hide their endorsement." According to Yun, as Ahn's supporters have low levels of loyalty as they chose him at whim of the shifting political landscape, Ahn needs to carve out a chance to turn around the tables or his approval ratings would have much trouble in rallying.
Hyung-Jun Hwang constant25@donga.com