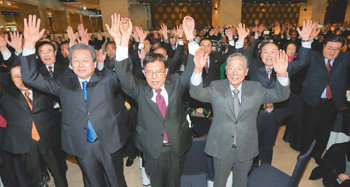 The democratization campaign council (or Minchuhyeop), which the Sangdo-dong faction for the late President Kim Yong-sam (YS), and the Donggyo-dong faction for the late President Kim Dae-jung (DJ) had jointly established in 1984, held a year-end party and luncheon at a restaurant in Yeouido, Seoul on Monday. They gathered together for the first time after the death of the late President Kim Young-sam.
"One of the two leaders (YS and DJ) left us the lesson of the need to liquidate regionalism and the other the mandate to achieve unity and integration," said Saenuri Party Chairman Kim Moo-sung, the de facto host of the gathering. "Now, Minchuhyeop members should join forces and take the lead to heal conflict and animosity in our society."
"Korea's democratization was possible because the two giants of YS and DJ joined hands and took the lead to integrate the aspiration for democratization," said Kwon Noh-gap, executive advisor to the main opposition New Politics Alliance for Democracy and the chief of the Donggyo-dong faction. "We find it hard to discover leadership who can guide Korean politics where animosity and conflict is rampant."
In attendance at the meeting were more than 200 veteran politicians and political leaders.
hong@donga.com