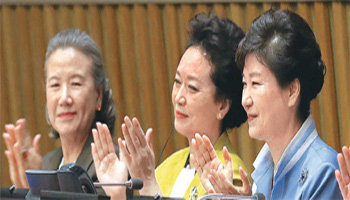 President Park Geun-hye conducted "diplomacy through encounters" in and around the U.N. General Assembly that brought together heads of state from over 160 countries worldwide. Notably, she had a brief meeting with Japanese Prime Minister Shinzo Abe at the waiting room ahead of luncheon for leaders of major countries, which was attended by more than 30 nations including China, Germany, Britain, France, and Peru on Sunday.
When Prime Minister Abe told President Park, "I have expectations for a summit (between Korea, China and Japan)," Park replied, "I hope to meet you in Seoul." After congratulating President Park on the success of the Korea-China summit held early this month, Abe said, "I wish that President Park will have a successful visit to the U.S. (in October)." Park was quoted by a source in the presidential office as replying "Thank you."
The Japanese government instantly publicized Abe's encounter with Park to the media, and strongly urged "unconditional summit meeting." Tokyo made positive comments on the meeting, saying that it was Park's briefing meeting with Prime Minister Abe, but they had very friendly dialogue.
Japanese media reported as important news President Park's statement over the comfort women issue in her speech before the U.N. General Assembly, which suggested that a solution to heal mental scars should be prepared as soon as possible. The Asahi Shimbun analyzed that in effect, President Park strongly urged the Japanese side to resolve the comfort women issue, ahead of the first Korea-Japan summit (between Park and Abe) in late October.
"Doors for dialogue (with Korea) are always open," Japanese Chief Cabinet Secretary Yoshihide Suga told a press conference on Monday. "It is desirable that the leaders of the two countries hold frank dialogue, since the two nations are responsible for peace and stability in Northeast Asia."
mhpark@donga.com