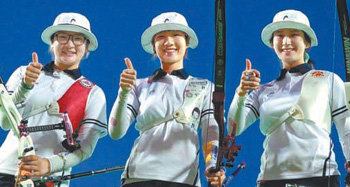 World Archery Federation (WAF) praised the Korean archery team as the best in the world and introduced the female archers who won the gold with perfect score at the Rio 2015 Olympic test event (pre-Olympic).
"Korea team that qualified straight to the quarterfinals won in straight sets, 6-0, in quarters, semis and final matches. (London) Olympic Champion Ki Bo-bae, 27, put all her arrows but one into the 10-ring," said the WAF said on Sep. 21 via its homepage. The one arrow that Ki missed struck the 9-point ring.
Korean female archery team, represented by Kang Chae-young, 19, Choi Mi-seon, 19 and Ki, beat Georgia (quarters), China (semis) and final match (Ukraine) in straight sets of 6-0 in the recurve women's event at the Rio 2015 Olympic test event held in Rio de Janeiro, Brazil, on Sep. 20 (local time). At the recurve team event which comprises of four sets, three archers shoot two arrows per set at the distance of 70m. The team earns 2 points when they win a set. If the team ties for a set, it obtains 1 point. The team that obtains 5 points or more wins the game.
The WAF quoted a statement of a Korean team official that Ki, who was the last shooter (anchor), is an experienced athlete who knows how to shoot an arrow at the last moment of the game which gives great pressure. Korean archery team's first shooter (opener) was Kang Chae-young and the second shooter (middle) was Choi Mi-sun.
Korean women's archery team aims to win the team event for 8 consecutive times in the Rio 2016 Olympics. The team has never lost the gold in the team event since 1988 Seoul Olympic Games when the archery was chosen as the official Olympic event.
wing@donga.com