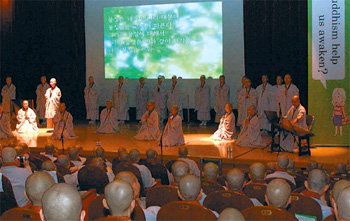 "Sorry, I am nervous."
An exotic event took place at the traditional culture and arts hall in front of Jogye-sa temple in central Seoul on Wednesday afternoon. It was the preliminary round of the first foreign language speech contest for '
student monks' who are studying at Samgha (Buddhist Monk) universities and Dongguk University, which was hosted by the education center of the Korean Buddhist Jogye Order.
A total of 41 individuals and 12 teams (121 people) took part in the contest, as the event was highly sought after.
As for English speeches, participants were asked to deliver speech in an "oratory style" in which one gives lecture by holding a microphone, or a presentation style in which one uses power point slides. Teams presented musical style performances by adopting short songs and play.
Rev. Jinhong, a student at Donghak-sa Temple's Samgha University, presented his story in English about how he started learning English in earnest two years ago, which was popular among audience members. When he was doing rudimentary chores including cleaning at the temple as part of practicing Buddhist discipline, he overheard one woman telling a child, "If you don't study hard, you will become garbage and be thrown out just like her."
At that moment, he made up his mind that he would learn English hard, improve the image of Buddhism, and exert efforts for international propagation. After finishing his speech amid a big round of applause, the monk told this reporter, "I went to law college and did not have to study English hard," adding, "I left earthly world and entered the Buddhist priesthood to resolve the issue of life and death, and I never expected that I would study English again."
Rep. Hwawon from Ssanggye-sa Temple's Samgha University gave speech on tea ceremony and meditation, and Rep. Hyeondam from Unmun-sa Temple's Samgha University addressed "demonstration of Buddhist temple foods" in English, while Rev. Ilwon from JoongAng Samgha University gave talk on "desire."
Most student monks gave speeches that they practiced for several months in fluent foreign languages for about four minutes each. There was no alarm that instantly alerts elimination of a contestant from the contest. Instead, when the time was up, a moderator monk signaled the end by hitting twice moktak, or wooden percussion instrument. Upon hearing the alarm, some monks became perplexed and speechless, before jokingly complaining "This is my first participation in this kind of event," "English is truly difficult for me to speak," and "I want to advance the final round and take the podium one again without fail."
The Jogye Order has decided to require student monks to learn a foreign language including English, Chinese and Japanese for two semesters of the four-year Samgha university course to enhance monks' qualifications and capacity and the internationalization of Buddhism.
"As we live in a new era, English has become a virtue that people who entered the Buddhist priesthood should be equipped with," said Rev. Yugok, chief monk at Donghak-sa Temple. "We are trying to ensure that monks can use language as a way to discipline themselves by narrating and learning the Buddhist scriptures and ceremonies, rather than simply studying English."
dunanworld@donga.com