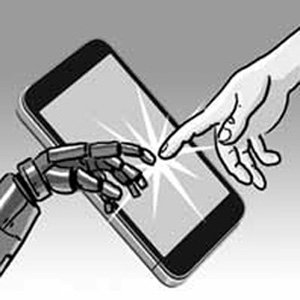 "The only thing that`s changed is everything," said Apple CEO Tim Cook at the tech giant's 2015 fall event to unveil its new product lineup ranging from iPhone to Apple TV, which was held at San Francisco on Wednesday. What was highlighted among the latest high-tech features was force-sensitive "3D touch.' With this feature, a mobile phone is capable of identifying three pressure levels of a tap, a press, and a deep press by fingertips on the screen.
The time has come in which a person can communicate with various devices by giving tactile inputs. Such an application has expanded to include not only mobile phones but also video games connected with TVs, or wearable devices such as smart watches or glasses, and even automobiles. Smart car, an automobile equipped with information technology, is capable of informing the driver of elements on the road that may cause a crash. Even further, the smart car can initiate a brake system in an emergency. Smart cars are now going beyond just a medium of transportation to become a smart device.
iPhone with the button-less touch screen was unveiled to the world in 2007, and Samsung Electronics released "Haptic phone" the following year. Haptic, which originated from the Greek word meaning "to touch," means tactile. That's why the haptic technology focuses on the tactile sense among five senses of human body. Samsung's "Haptic Phone" did make a big hit. Maybe, the phone hit the market way ahead of its time. But now, touch sensing technologies are in the limelight as mobile devices have become widely and commonly used.
Emergence of the haptic technology shows evolving relationship between a human being and a machine. By utilizing the technology, an individual can adjust the strength and rhythm of vibration, which is to notify a text message or a call, to suit the personal preference instead of uniform vibration. On one hand, it is marvelous to see that a new era of state-of-art technology has come where high-tech gadgets can please individuals' emotional needs. On the other hand, it is scary. What concerns me is the fact that the contact time between my body and a machine becomes extended and dependency on the machine grows. Another concern is about a possible dystopian future, where human beings may have computer chips inserted for a reason of ultimate convenience and voluntarily become robots.