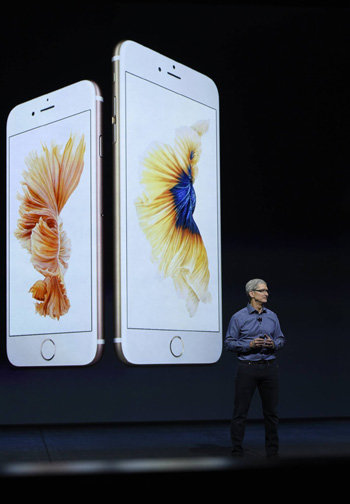 There was no new innovation. Rather, it appears to have followed other popular competitors whose products have already been verified in the market. The unique characteristics of Apple that touch consumers' heart and make them open their wallet were still witnessed. Clean-cut images of its advertisement and newly-marketed color of "Rose Gold" are factors that can sufficiently prod Apple fans to buy its new version.
At Bill Graham Civic Auditorium in San Francisco on Wednesday (local time), Apple unveiled its new products of iPhone 6 series, iPad Pro, Apple Watch and Apple TV. Rising immediately after the event began, Apple's stock price dropped 1.92 percent to 110.15 U.S. dollars (approx. 131,000 Korean won) compared to the previous day as few eye-opening functionalities or products were disclosed until the end of the event.
iPhone 6S series shares identical exterior with iPhone 6 which came to the market a year earlier. With the same size and the design, it has newly-added color of rose gold. Apple's CEO Tim Cook claimed that "the company has changed everything about the iPhone, making the two new models the most advanced smartphones in the world."
The most highlighted new function of the day was "3D Touch" that senses different pressure of users. Distinguishing three different touches of light tap, heavy tap and heavier press, the phone performs different functions. For instance, if a user gives heavy tap to camera, the phone directly brings out selfie function while heavier press on one of incoming emails gives preview of the chosen one.
The new iPhone came with enhanced resolution for its camera. The rear camera boasts 12-megapixel while the front-facing camera has 12-megapixel sensor, both of which have been improved compared to iPhone 6 with 8-megapixel for the rear and 1.2 for the front. Still, they fall short of Samsung's Galaxy Note 5 whose rear camera has 16-megapixel and front one 5-megapixel.
The electronic industry has shown its disappointment in that Apple imitated major products and functions of its competition. On the day, the company announced that it would sell the stylus called Apple Pencil for new iPad Pro for 99 dollars (approx. 118,000 won). The Pencil goes right against the philosophy of the late Steve Jobs, Apple's founder. Suggested to add a stylus to iPhone and iPad at MacWorld 2007, he said "Who wants a stylus?" showing his belief that the stylus is unhandy to carry and easy to lose. Some say that Apple had faced away from market response to the stylus even when Samsung introduced Galaxy Note with S pen in 2011 and copied it at the last moment.
iPad Pro's "Smart Keyboard" shares similar look and functions with Microsoft's "Surface." On its article titled "Everything Apple Announced That Someone Else Already Did", Wired, American IT magazine, wrote that the Apple's Pencil and Smart Keyboard are similar with products that other companies have already introduced in the market.
The industry's response has been divided so far. Even without much-expected innovation, some say that Apple's new products would bring about at least "moderate success", if not "big success" as its products have always enjoyed unswerving loyalty from its consumers. Others say, however, that it would not be easy for Apple to produce remarkable performance in smartphone market whose growth momentum has stopped.
Sources from Korea's electronic industry say that "There used to be mounting criticism of 'Apple's innovation is over', when it followed Samsung by introducing its larger-screen iPhone 6 Plus. It, however, enjoyed good sales." In fact, foreign media reported that Apple placed the largest order for its initial batch of products to its suppliers. More careful watchers suggest that it remains to be seen whether Apple can appeal to its consumers with products whose functions have already been introduced to the market by its competitors. Some others analyze that while its brand power may guarantee certain levels of sales for the newly-unveiled products, it seems to be hard for those product to bring about big success as they are far from much-expected innovation.
Available for pre-order from Sept.12 in 12 countries such as America and China, iPhone 6S series will hit the market on Sept. 25. Korea is not among those 12 countries.
Some five months now in the market, Apple Watch introduced its new color such as Rose Gold. The new "Hermes Apple Watch", ultra fancy watch that was produced in partnership with Hermes, was also eye catching.
jhk85@donga.com