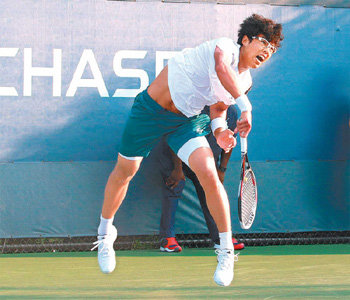 "The competition is not over yet. I'm happy but I don't want to celebrate now. I will pour all my energy to get a higher outcome."
Chung Hyeon accomplished one of his dreams but he's still thirsty. He for the first time won one of the major tennis competition finals, but wants more.
Ranked global 69th, Chung beat 95th ranking James Duckworth 3-0 (6-3, 6-1, 6-2) at men's singles in U.S. Open, the last major tennis competition this season, held Wednesday in New York. It was a complete victory as he ended the game in just an hour and 36 minutes. He stabilized the serve, which was unstable at one point, and he managed with just one error.
Chung became the first Korean to win major competition finals after Lee Hyung-taek won in French Open in May 2008. After losing at Wimbledon first stage, Chung grabbed the title after just two attempts. He has now secured 68,600 U.S. dollars.
Chung will not meet world fifth ranking Stan Wawrinka from Switzerland. In terms of professional background, this is a David and Goliath game. Stan Wawrinka has grabbed two titles in major competitions. In 2014 he beat Rafael Nadal in Australia Open finals, and this year he won world No. 1 ranking Novak Djokovic at French Open. Stan Wawrinka`s prize money this season has already topped 3.86 million dollars, more than 20 times that of Chung at 170,000 dollars. "Stan Wawrinka is the highest ranking rival I'm meeting this season. I will do my best because I don't want to regret," the Korean player said. "I haven't seen him play, but I know that I'll have to be careful of his strong backhand shot."
"Stan Wawrinka has powerful backhand as well as forehand. It is important for Jung to keep good pace in sub game," said Chung Seok-jin, his father and coach at Samil Technical High School tennis club.
"I don't know him well but I've heard that he's been playing well. Last week, he beat my friend Benoit Paire," Wawrinka said about Chung after the first stage.
Chung will play with Wawrinka Friday morning for round 64 at a court that can accommodate thousands of spectators. It will be an important learning opportunity for Chung to play in an unfamiliar environment.
kjs0123@donga.com