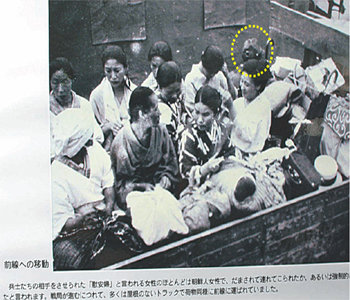 This reporter visited the Nakano ZERO exhibition hall in Nakano district in Tokyo, Japan on Friday. Fifty black and white photos were hanging at an exhibition room on underground level 2 at the center. They include images of Japanese soldiers having their haircut at battlegrounds, starving children asking for food, and a Japanese military officer watching dead bodies of Chinese soldiers.
The photos were taken by Moriyasu Murase (who died in 1988), who participated as a Japanese military driver at Sino-Japanese War. He documented horrible situations of war while visiting battlegrounds in China until January 1940 after he was conscripted in July 1937. The Japan-China Friendship Association, a non-profit organization in Japan, held the exhibition to commemorate the 70th anniversary of the end of World War II for three days from Friday.
This reporter visited the exhibition on the first day, but more than 40 visitors were filling to its capacity the exhibition room with a floor space of 40 sq. meters. Most of them were Japanese citizens in their 60s or older. While looking at photos, they paid keen attention to a certain photo: a photo of truck carrying nine comfort women for the Japanese military.
"Most of the women who had to receive soldiers were Joseon (Korean) women, and they reportedly were taken there by force because they were cheated. As the war intensified, they were transported to frontlines by trucks without roof, just like freight packages." Photo captions from Murase's words indicated that comfort women had been taken by force.
Pointing at a man wearing a cap in one photo, Misuharu Yazaki, general-secretary of the association, said, "He is a Japanese soldier. He is transporting comfort women by force amid involvement of the military," stressing that "The Japanese military's bringing of comfort women by force by is an undeniable fact."
Why more Japanese people are revealing shameful history of their past by themselves? "Japan is increasingly becoming a country capable of engaging in a war, but most citizens are not aware of atrocity of war, because they have never experienced it," Yazaki said. "The purpose of this exhibition is to enlighten people about the atrocity of war of aggression."
"I have not experienced war because I was born after the war. My father participated in the war, but he never told me about the war. Looking at photos here, I can imagine the emotion of my father, who would not talk about war," said Geko Shiota, 69, who toured the exhibition. "As a Japanese citizen, I feel responsible for the mobilization of comfort women and massacre of Chinese people."
lovesong@donga.com