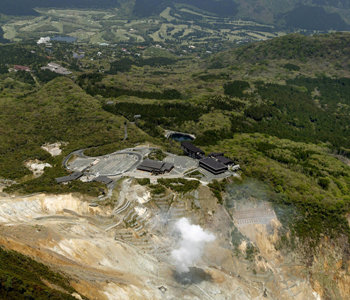 The Japanese authorities have raised the volcano alert for Mount Hakone, a popular spa tourist spot for Koreans near Tokyo, on Wednesday, with small eruptions deemed possible.
The Japan Meteorological Agency raised the alert from 1, or "normal," to 2, a level advising regulated entries, to areas around the Owakudani volcanic vent. It is the first time alert was raised to 2 for Mount Hakone since the alert system introduced in Japan.
According to the agency, seismic activity started to increase near Owakudani that is adjacent to the peak of Mount Hakone on April 26. Owakudani attracts tourists all year long since people can see volcanic gas there and also the beautiful scenery of Mount Fuji.
On Tuesday, three minor earthquakes at a magnitude of 2.0 on the Richter scale were reported in Hakone-Yumoto, a hot springs resort below Mount Hakone. The same day, 200 volcanic earthquakes were observed, which is equivalent to the annual average number of earthquakes in this area.
Hot volcanic gas started to rise and active steam bursts were also observed at hot spring facilities in Owakudani on Wednesday. "Seismic activity is intensifying with magma beneath Mount Hakone drastically increasing. There is possibility of small eruptions," the agency said.
Caution was advised over ash deposits and rocks that could rain down on the area if an eruption occurs. A volcanic eruption of Mount Ontake took place in September last year killing 57 people, most of who died after being hit with rocks. After four trails 3 kilometers around Owakudani being closed on Monday, an evacuation order was issued in the 300 meter radius around Owakudani on Wednesday. Cable car operation was also suspended.
A 90-munite drive from Tokyo, Mount Hakone had remained silent since steam erupted in the 12th and 13th centuries. Yet seismic activities had repeatedly increased and decreased. In 2001, 14,000 earthquakes occurred for two months while volcanic gas concentration increased, leading to a temporary suspension of operation of tourist facilities there.
lovesong@donga.com