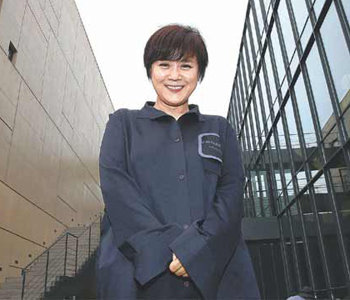 'Myung Films Art Center' and 'Myung Films Institute' opened on April 30 at the Myung Films HQ building in Paju City of Gyeonggi Province, which are spaces designated for complex video art and culture with a medium of movie. Myung Films, a Korean film production that marks the 20th anniversary of its foundation this year, provides various entertainment to the public under the motto of 'Movie City' in the Paju Book City.
The Art Center comprises of a movie theater, an art performance stage and an art project exhibition hall. The movie theater on the underground floor is a bit small with 170 seats, but equipped with digital 4k projection system and Dolby Atmos 3D sound system. To celebrate its opening, an animated film 'A Hen into the Wild' is screened for free twice a day (at 10:30 AM and 1:30 PM) from May 1 to May 20. Korea's most renowned movie director Im Kwon-taek's 102nd movie 'Makeup' is also playing as a double feature. A new movie titled 'Surviving' will be playing from May 21.
The second and third floors house a multi-purpose performance stage with a capacity of 250 seats. This black-box style theater is a venue for musical performance, concert, lecture and party. 'Waikiki Brothers,' the first musical produced by the Myung Films, will be performed in July. The exhibition hall 'Art Lab' on the fourth floor is a space for talented artists to exhibit their artworks. Starting from May 1, the lab hosts 'Assembly: Layer set play,' an exhibition that allows visitors to have hands-on experience with innovative furniture, and 'Crossing Wave,' which presents a crossing point between video art and movie. A book cafe with books in areas of movie, construction and design is located on the first floor.
With a catchphrase of 'Nurturing movie artists armed with artistic consciousness and talents,' Myung Films Institute has selected 10 students for the first batch. The institute recruits students every year in areas of △Drama movie directing (2 students) △Documentary directing (1 student) △Production (1 student) △Acting (2 students) △Cinema art· Filming· Editing· Sound (1 student per each). The two year program comprises courses for various movie theories, liberal arts education, and production practice. Movie directors such as Jeong Ji-young ('Broken Arrow'), Lee Joon-ik ('King and the Clown'), and Lee Yong-joo ('Architecture 101'), the institute's chairwoman Lee Eun, and actress Moon So-ri participate in the faculty as a visiting professor. The institute provides all expenses for movie-making, tuition and accommodation (dormitory). Applications for the second class in the next year will be received between Oct. 5 and 12 this year. Interested readers are kindly requested to visit the Myung Films Cultural Foundation website (www.myungfilm.org).
ray@donga.com