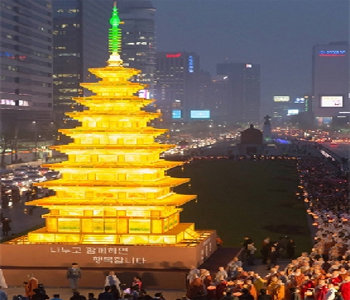 Some 100,000 lotus lanterns will be glowing in Gwanghwamun Plaza, Seoul on May 16.
The Jogye Order of Korean Buddhism has announced its plan for a wishful ceremony for Korean Peninsula's unification and world peace, the lotus lantern festival to mark Buddha's Birthday.
This year is especially meaningful for Buddhists as it marks the 2559th Year of the Buddhist Calendar and the wishful ceremony planned from May 15 to 17 in Gwanghwamun Plaza where monks from around the world will take part is coincided with Buddha's Birthday (May 25). The ceremony will be attended by some 300 monks of high virtue from other countries such as Ven. Sangarāja from Cambodia and Deputy Supreme Patriarch of Siyam Nikāya from Sri Lanka and leaders from different religions such as Secretariat General of the World Council of Religious Leaders and archpriest of Cathedral of Saint John the Divine.
They will have a religious meeting for wishing world peace at Grand Hilton Seoul at 2 p.m. on May 16 and adopt "Declaration on world peace." On the same day from 7 p.m., a dazzling array of some 100,000 lotus lanterns will be flooding starting from Dongguk University to Dongdaemun, Jongno and finally to Gwanghwamun Plaza. Taegeukgi lanterns to celebrate the 70th year of independence, Korean Peninsula lanterns to wish unification of the two Koreas and Maae Samjeonbul lanterns for peace and harmony will be included in the array of lantern march.
At 8 p.m., Muchadaehoi where lantern march participants can join will be held. Muchadaehoi refers to a Buddhist ceremony where all the assembly can take part including monks and laymen, irrespective of rank. The Jogye Order expects that some 300,000 people will be gathered not only Buddhists for Muchadaehoi but also spectators who have come to enjoy the march.
The highlight of Muchadaehoi is the time for Dhyana and Samadhi (Seonjeong in Korean when Buddhists pray to be free from attachment to all outer objects and to attain inner peace) when monks from different countries pray all together for the unification of Korean peninsula and world peace. The general participants will also be part of wishful ceremony with the signal sound of bamboo clapper.
"Wishing for reconciliation and unification of South and North Korea and global peace, the planned ceremony is expected to be the biggest one which can't be easily seen in the world Buddhism history," said Ven. Jihyeon, general affairs manager of the Jogye Order.
The Jogye Order will signal the beginning of those planned events with the lighting ceremony of Mireuksaji pagoda at the plaza at 7 p.m. on April 29. Starting from May 15, exhibitions will be held in Ujeong Park next to Jogye Temple, Bongeun Temple in Samseong-dong and Cheonggye Stream and at noon on May 17, a Culture Plaza event will be held where people can experience temple foods, performances and Zen meditation in front of Jogye Temple. The Buddhist assembly to celebrate the Buddha's coming will be held in temples around the country at 10 a.m. on May 25.
dunanworld@donga.com