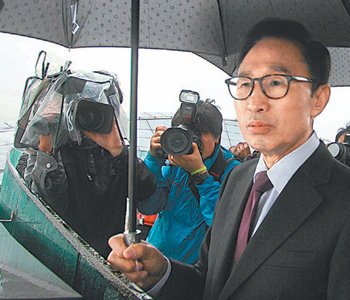 Former President Lee Myung-bak came to Daegu Monday for a two day trip, marking his first visit to the southern city since stepping down in 2013. His visit is gaining high attention since Keangnam Enterprises Chairman Sung Wan-jong recently killed himself amid the prosecution`s ongoing corruption probe on resource diplomacy projects carried out during Lee`s administration.
Lee attended a dinner meeting hosted by entrepreneur members of the Daegu Chamber of Commerce and Industry. He is known to have discussed pending economic issues, including domestic and foreign economic trends and Daegu`s industries. Before having dinner, Lee toured the Gangjeong-Goryeong Weir, one of the sites that had been designated for the four river restoration project. Lee wrote on a visitor`s book, "Water is the most important resource for human being. I hope this place becomes a meaningful place that introduces the importance of water management."
Lee`s visit was made by invitation from the Daegu Chamber of Commerce and Industry. Lee`s aides said, "We accepted to the invitation, and there is no political meaning in this." However, with the pro-Park Geun-hye camp mired in a disastrous situation due to the so-called "Sung Wan-jong list," politicians are wrangling over Lee`s visit.
Lee plans to play golf at a golf club in the region on Tuesday, but can cancel it depending on the situation.
sungho@donga.com