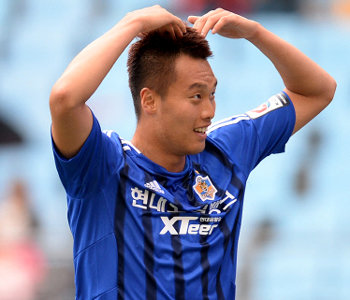 Ulsan Hyundai striker Kim Shin-wook has made a triumphant comeback.
At a home game against Gwangju FC at the K-league Classic held at Ulsan Munsu World Cup Stadium on Sunday, Kim spearheaded his team 2-0 win against the visiting team. While securing three wins and one draw (10 score points overall), Ulsan has now the same number of points as the second-ranked Jeonbuk, but is leading the latter in the total number of goals (Ulsan +6, and Jeonbuk +4) to emerge as No. 1 overall in the league. In contrast, Gwangju has ended its undefeated record since the season's opening.
Kim had concentrated on treatment and rehabilitation for the past seven months since suffering a right calf injury last year, but now he has gradually improved and recovered his physical conditions. Since the season's opening, he has played as a substitute rather than starting player in three games, sharpening his game sense. While being excluded from the national team's roster, Kim was able to completely restore his physical conditions during the period of A-matches.
Kim added a robustness to his game on Sunday. Gwangju's own goal at 16th minute in the first half was attributable to Kim's shot. When Kim kicked a cross, Gwangju's Chung Joon-young sought to kick out the ball but failed, to score own goal. Kim scored another goal through a header from a cross provided by Lee Myeong-jae at 9th minute in the second half.
creating@donga.com