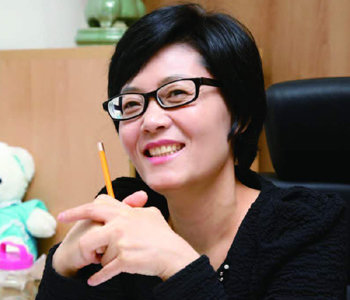 Kim Ok-hwa, a North Korean defector who makes living as nurse aide, working from 7 a.m. to 7 p.m. for four days, and from 7 p.m. to 7 a.m. for the ensuing four days.
Her daytime life when she`s at the hospital in night time is different from other people. After she returns home in the morning, she barely has time to rest because she works from 9 a.m. to 2 p.m. as a voluntary worker for elderly people living alone at a nearby YWCA community relief center. She began this work in 2009.
"I came to Korea in 2008 and I studied to become a nurse. One day I met a young college student delivering lunch boxes at the elevator of my apartment. I thought he was working for a lunch box service company," she said.
But she soon found out that the young man was doing voluntary work for elderly people living in the apartment complex. She asked him, "Do I have to go through interview to join the company?" and he replied, "Anyone can volunteer." Around that time, she also saw people doing voluntary delivery of briquettes. Among them, there were people who had helped her settle down in Korea.
She then came to think that she also wanted to help others. She pondered on what she could do to help.
Since she started working as a nurse aide job in 2010, she was busy working. Then she decided to do volunteer work in October 2013, and has since been making side dish foods and delivering lunch boxes to senior people. She said she`s physically burned out frequently.
When asked why she`s doing voluntary work despite heavy workload, she said, "I worked as an accountant in North Korea. I was too busy to think of helping other people. I`m physically challenged now, but I feel happy when I deliver warm lunch boxes to elderly people who are suffering from sickness on cold days."
zeitung@donga.com