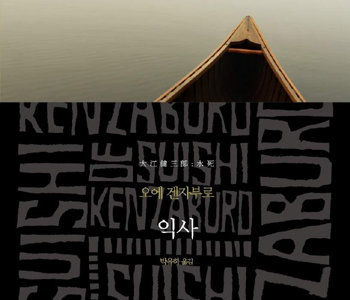 Nobel literature laureate Kenzaburo Oe's biographical novel "Drowning" was published in Korea by Munhakdongne. The novel was released in 2009 in Japan and translated into Korean by Sejong University Professor Park Yoo-ha. At a meeting to celebrate the novel's publication at a cafe in Seoul on Friday, the 80-year-old Japanese writer said, "This book contains non-fictional confessions for the first time. I am done with writing a novel in my life. In the future, I will write more manuscripts or essays about peace and issues in the lives of Japanese."
Kogito Choko, main character of the novel, is a writer who appeared as Oe`s literary alter ego several times in other novels. After his father drowned while setting a boat afloat in a flooded river when he was young, Choko obsessively writes novels about "drowning" to clarify the reason. As an extreme follower of the Japanese emperor, Choko's father planned a suicide bombing, but failed in an attempt to die with the emperor at the palace when Japan was losing in the war. Oe said, "Suicide bombing in the emperor's palace means the end of tradition of nationalism and totalitarianism in Japan."
At one point, the novel criticizes Japan's forced conscription of the sex slaves to military camps. Unaiko, an actress and a supporter of Choko, was raped and forcibly aborted by her uncle who is a high level official. "Behind the wars that were waged by Japan, there lies male chauvinistic violence. The sex slave issue was attributed to Japan's barbarian character that justifies violence against women. Japan should apologize for it," said the author.
tigermask@donga.com