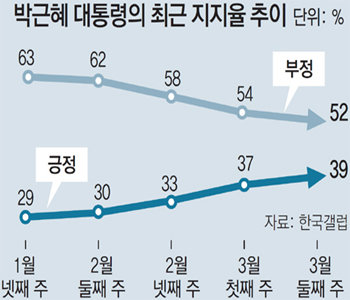 President Park Geun-hye is seeing her approval rating sharply rebound. According to a poll by Gallup Korea on Friday, Park's approval rating is nearing the 40 percent level this week. Since hitting the bottom at 29 percent in the fourth week of January, her approval rating has been steadily on the rise. Negative assessment on the president also declined 11 percentage points from 63 percent in the fourth week of January to 52 percent this week.
A survey by Real Meter also suggests that President Park maintains her approval rating at the 40 percent level this week. After recovering the 40 percent level at 40.3 percent on March 6, her approval rating also stood at 44.1 percent on Monday, 46.1 percent on Tuesday, 44.4 percent on Wednesday, and 41.8 percent on Thursday.
Analysts say that her approval rating has rebounded after hitting the bottom for over a month period due to the combination of her diplomatic achievements and "Lippert effect." During her tour to four Middle East countries last week, she attained significant economic achievements including export of small-size Korean standard nuclear reactors. In the Gallup poll, respondents picked diplomatic achievements (30 percent) as the primary reason for positive assessment of the president.
Another reason for a rebound of her approval rating cited is that the presidential office concluded personnel reshuffle with the appointment of Lee Byung-ki as her chief of staff, and has started proactive communications since Lee's inauguration.
Analysts also say that the conservative group is forming united front since the knife attack on U.S. Ambassador to Korea Mark Lippert. As for the nature of the attack on the U.S. ambassador in the Gallup poll, those who chose "an individual's deviant behaviors" (47 percent) were similar in number to those who picked "attack by pro-North Korean forces" (40 percent). Notably 60 percent of ruling Saenuri Party supporters answered it was "committed by pro-North Korean forces."
egija@donga.com