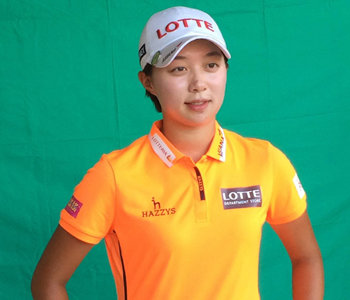 "Opening games are over. Now I am starting in earnest."
Kim Hyo-joo, 20, ranked 23rd overall and tied for seventh at the recent two competitions since the opening of this year's LPGA tour. Kim, who conquered the Korean LPGA last year and won the title at the Evian Championship, one of LPGA's major tournaments, seems to have much bigger ambition.
"I am not fully satisfied with anything," Kim said. She suspended golfing for nearly a month late last year due to her busy schedule while undergoing her corrective eye surgery, which could cause critical effect on her athletic capacity and performance. Analysts say that Kim has made achievements living up to her fame.
Kim returned to Korea on Monday after participating at championships held in Thailand and Singapore for two weeks. She is set to depart Korea on Saturday to take part in tournaments in the U.S. Starting with the Founders Cup to be held in Phoenix, Arizona on next Wednesday, she will participate in tournaments for seven consecutive weeks. Her schedules during the period include a tournament in Hawaii and the Lotte Mart Championship, the opener of this year's KLPGA tour. She is thus embarking on a genuine tour to take on the challenges of long travel and environment, which is different from Asia. "I have to pack my luggage, and I need to bring some 30 T-shirts with me. I`m realizing that I set to embrace the season by embarking on a new tour," Kim said. "My driving distance has increased, but still I have to improve short games with a range of 100 meters or less."
Kim Hyo-joo is ready for a long, challenging journey. She has elevated her self-confidence by boosting her physical stamina in highly humid, hot weather conditions in Southeast Asia with temperatures hitting 35 degrees Celsius for more than two months early this year.
In the race of rookie golfers for this season, Kim ranked fifth with 83 points, a 170 point gap vis-à-vis Kim Se-young (253 points), who played in two more championships than the former. Kim Hyo-joo, who had her hair cut to renew her commitment on Wednesday, said, "I don't feel such a big burden. I will continue to walk ahead diligently. I expect that I will have a chance to share good news with you."
kjs0123@donga.com