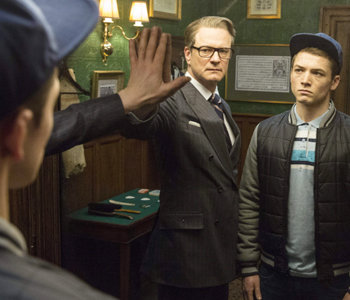 "Are they trying to pacify us only with this video?"
A video clip of Matthew Vaughn, director of "Kingsman: The Secret Service," and Taron Egerton, who starred in the spy film, was released on Tuesday. They did that they were sorry for not being able to go (to Korea), and that there would be no (success of) Kingsman without Korea. The movie has attracted 4.3 million viewers as of Wednesday. It is the first R-rated non-Korean movie that passed the four million viewer mark in Korea.
The video clip was released by the distributor 20th Century Fox Korea, but Korean movie fans are not excited about it. It is because of the news that Colin Firth, another star of the movie, will visit China on March 23 before the March 27 release in China. Korean fans complained, saying, "The movie made a big hit in Korea but he is going to China. One man sows and the other man reaps." Some even suspected that they released the video clip hurriedly because Korean fans got discontent about it."
The main actors of the movie are very unlikely to visit Korea, however. Foreign actors generally visit Korea for the promotion of their movie before the release. Fox Korea said that as they didn't expect a big success in Korea, they did not arrange the actors' visit to Korea.